23rd August 2017
Libera In America 2017 – Part 2
The day after the first concert we had a rest day.  We toured the UCLA campus, visited the sports complex and found the campus shop.  The 'shop' was actually huge.  It stocked everything from UCLA socks, computers, Gatorade to books.  We parted with more of our pocket money and a number of sweatshirts, footballs and soft drinks were purchased.  We then boarded the coach again and made our way to Calvary Community Church in Westlake Village. We received a warm welcome and went to carry out our sound check for the evening's service. We returned 'home' to UCLA and had a swim and a supper of burgers and enormous cupcakes.
Sunday morning arrived and again, the sun was high in the sky.  We had a quick breakfast and then it was straight off to Westlake.  We felt at home in LA now and had really adjusted to the time difference.  We sang in two very well attended services and joined with the church band and worship leader for one song, as well as singing one of our own. We had to change the order of service slightly for the first service as we had been caught up in LA traffic and only just made it with us literally running and throwing our robes on as we got to the church!  We had a very warm reception and it was lovely to see the friendly faces of the people of Westlake.  After the morning services we went to the pool almost next door to the church.  It was enormous, and we had a great time swimming, jumping, splashing and whacking each other with foam noodle floats.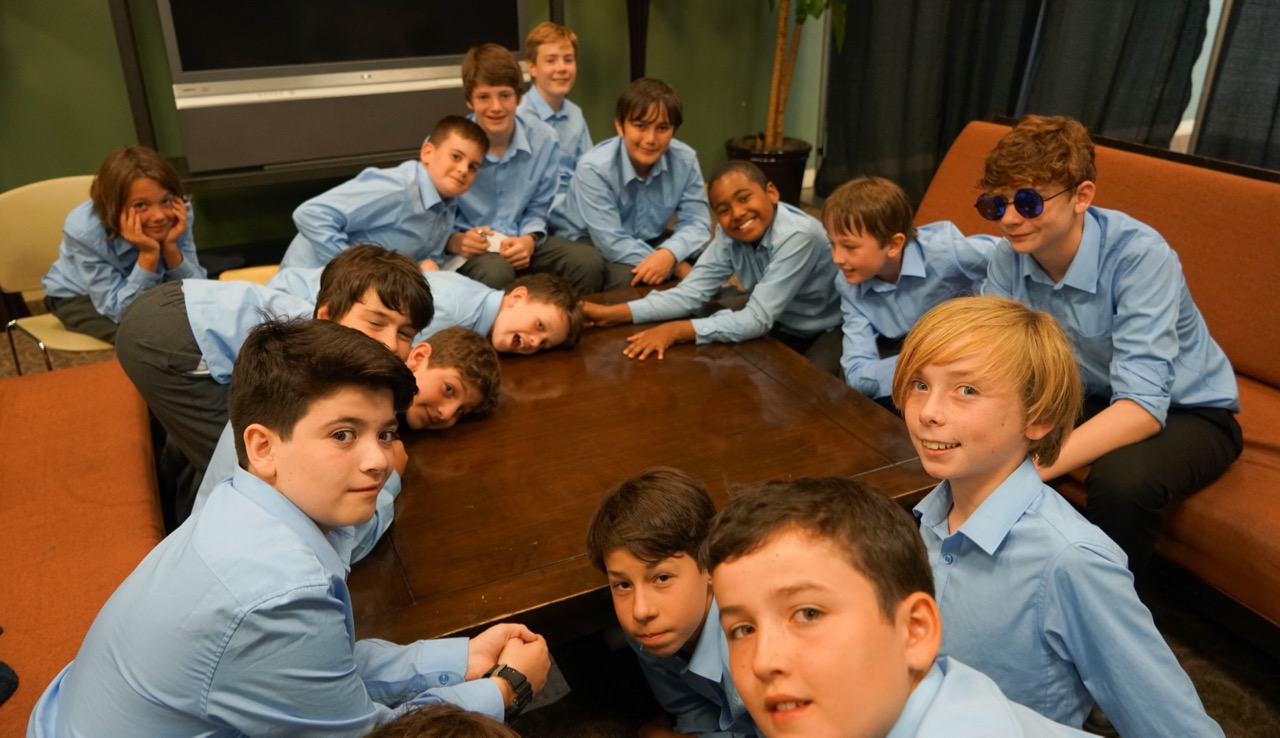 We then returned to our space in the church and readied ourselves for the concert.  There was a little down time before we needed to 'get into the zone' so we started a game of coin rugby on a large nearby table.  This is a Libera invention and does not involve the usual passing, tackling, shouting and running – but does cause quite a lot of excitement considering it's just a coin sliding gently across a table. Then, sound check carried out, we donned our navy choir jackets – backwards as usual – and grabbed something to eat. We then had our usual quiet time when we settle down to read or think through moves and lyrics – and try not to get too nervous, just quietly excited.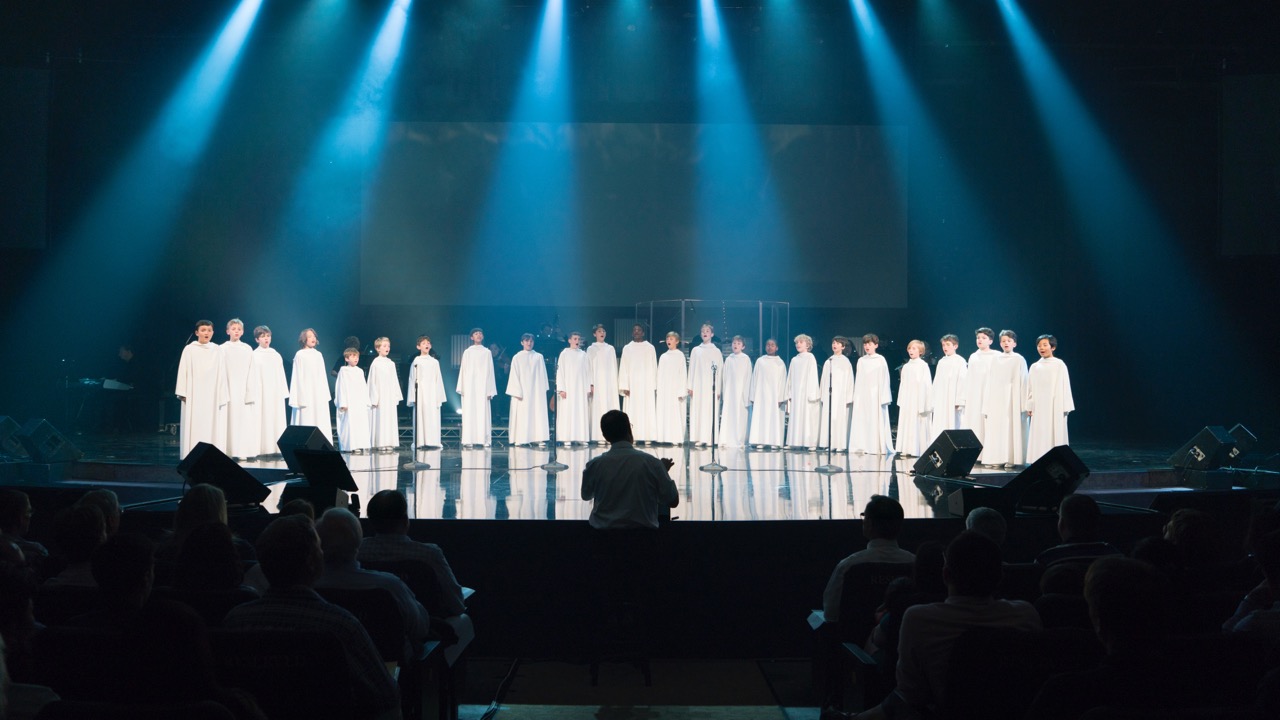 We went out on stage to a large audience.  The lighting in the place was spectacular and the concert went smoothly and was a great success.  After rapturous applause we filed off the stage and took our seats in the meet and greet area – this time wearing our choir coats the normal people way round. We have to wear them over our robes when we sign because we use permanent ink pens on things like programmes which have shiny surfaces. But there isn't time to change out of our robes. An enthusiastic flourish of the pen could slip onto our robes, so the coats take the hit instead. Again, the people we got to meet were so friendly and warm.  It is one of our favourite times and always a lovely way to end a concert – and after this one we were specially honoured to meet one of our main Libera sponsors – Karine and Torstein Hagen who own Viking Cruises. After that, as it was a late night, we went straight 'home' to bed.
We had a bit of a lie-in the next morning, a leisurely breakfast, another trip to the gym and then onto the beach for one last dip in the Pacific Ocean.  We locked into our memories the golden sands, the stunning beaches and the crystal-clear waters – truly lovely.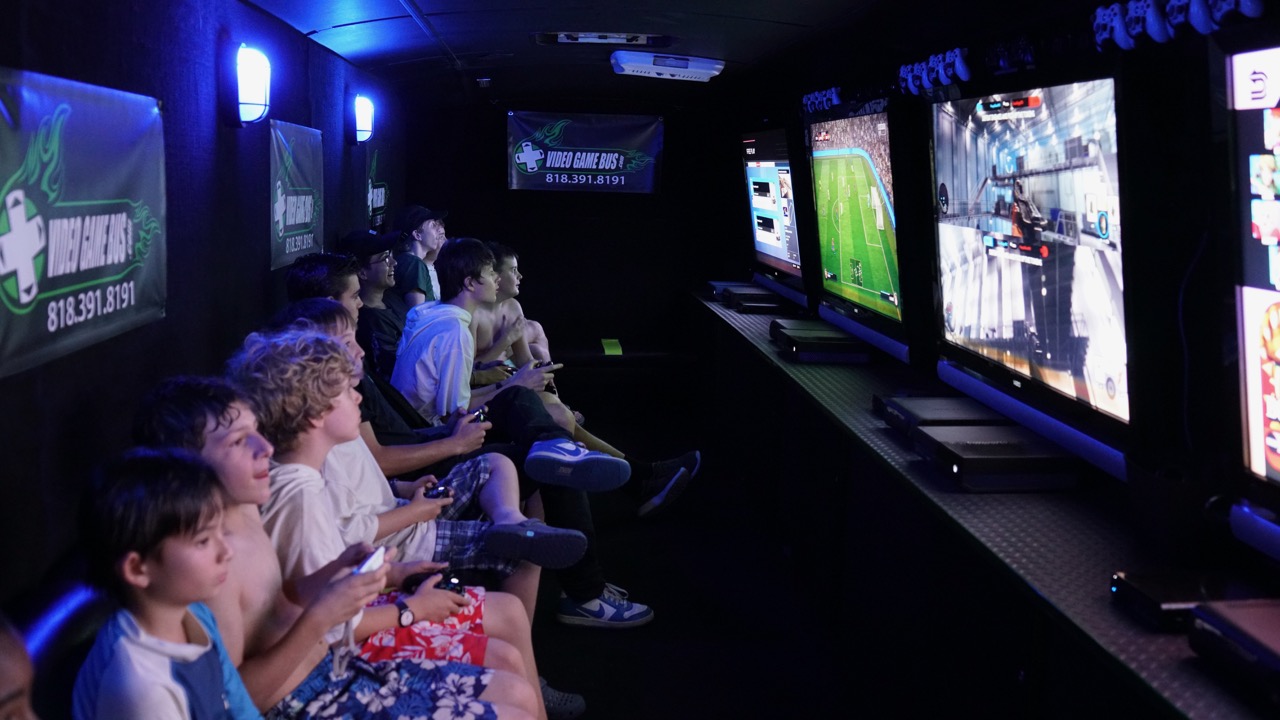 In the afternoon we visited the family home of one of our top supporters.  They had kindly arranged a party for us, a barbecue with tasty food, time in their pool but best of all, a 'Games Bus'.  It was a converted coach that had been fitted out with state of the art gaming facilities including enormous screens.  A Libera dream!  A brilliant time was had by all and we were bowled over by the family's kindness which also included a slippery water slide which created a swamp in the middle of the lawn and kept splashing the nice civilised chaperone area.  As the sun sank in the Californian sky we finished our visit with 's'mores' – melted marshmallows and chocolate sandwiched between two crackers – delicious and very messy!   We were sad in a way as it was our last night in LA and I think we had all enjoyed our visit, certainly the concerts, weather and hospitality.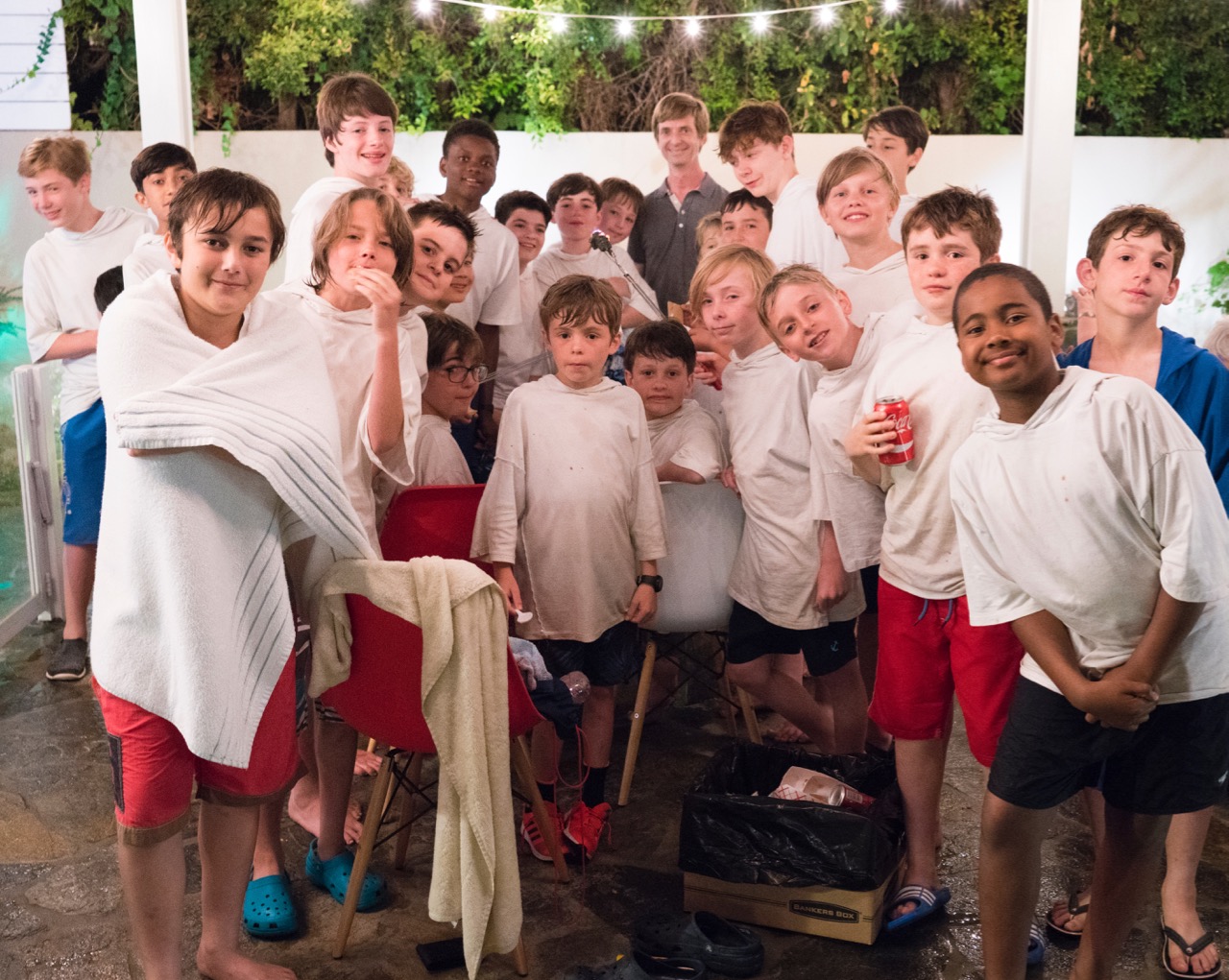 We rose to sunshine again and grabbed a quick but tasty breakfast despite the fact that there were suddenly about 3 million other people in the dining room.  After a fairly serious omelette queue we returned to our rooms and packed our belongings. We are quite quick at doing this, which is particularly clever seeing as the rooms are usually a complete rubbish tip of dropped clothes, half-empty water bottles, coat hangers, swimmers, remote controls, teddies, bath robes, towels, inside out jeans, unused laundry bags, discarded sweet wrappers, mixed up trainers, and a sock. Apparently I discovered that according to the chaperones' 'Untidiest Room Rating', when me and Isaac are together, we have the most untidy room of all. Recognition at last. But mostly I give the credit to Isaac.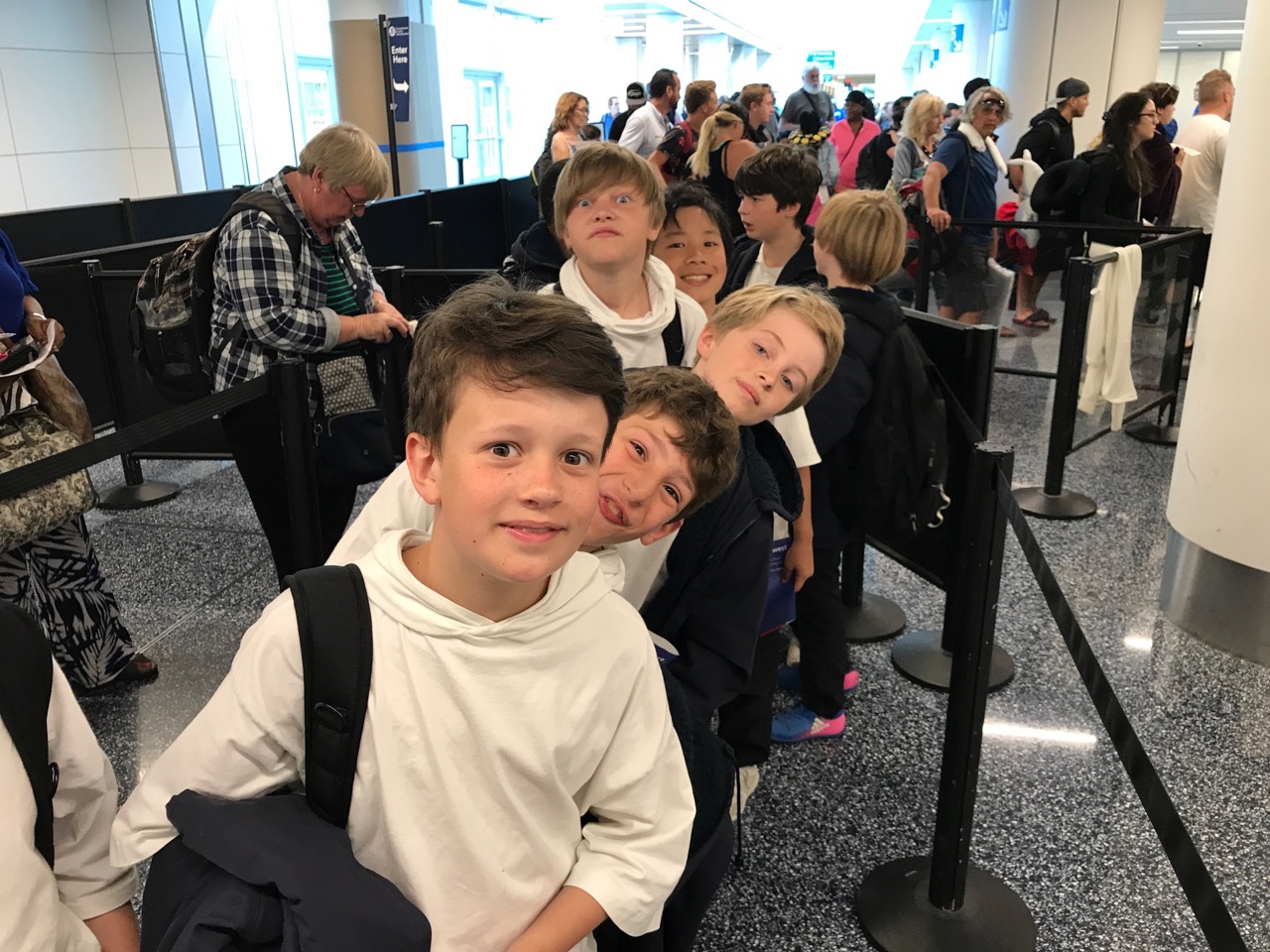 We didn't want to leave LA but knew that we had more adventures ahead.  We packed all our bits and pieces onto the coach and made our way to LAX.  Next stop Houston.
It was a relatively short flight leaving LA at 11:15hrs and arriving in Houston at 17:20hrs.  We lost two hours during the flight as Texas is in a different time zone to California.  However, 'Houston we have a problem' – the heat was something else and hit you as soon as the plane doors opened – though apparently it was not nearly as hot as it usually is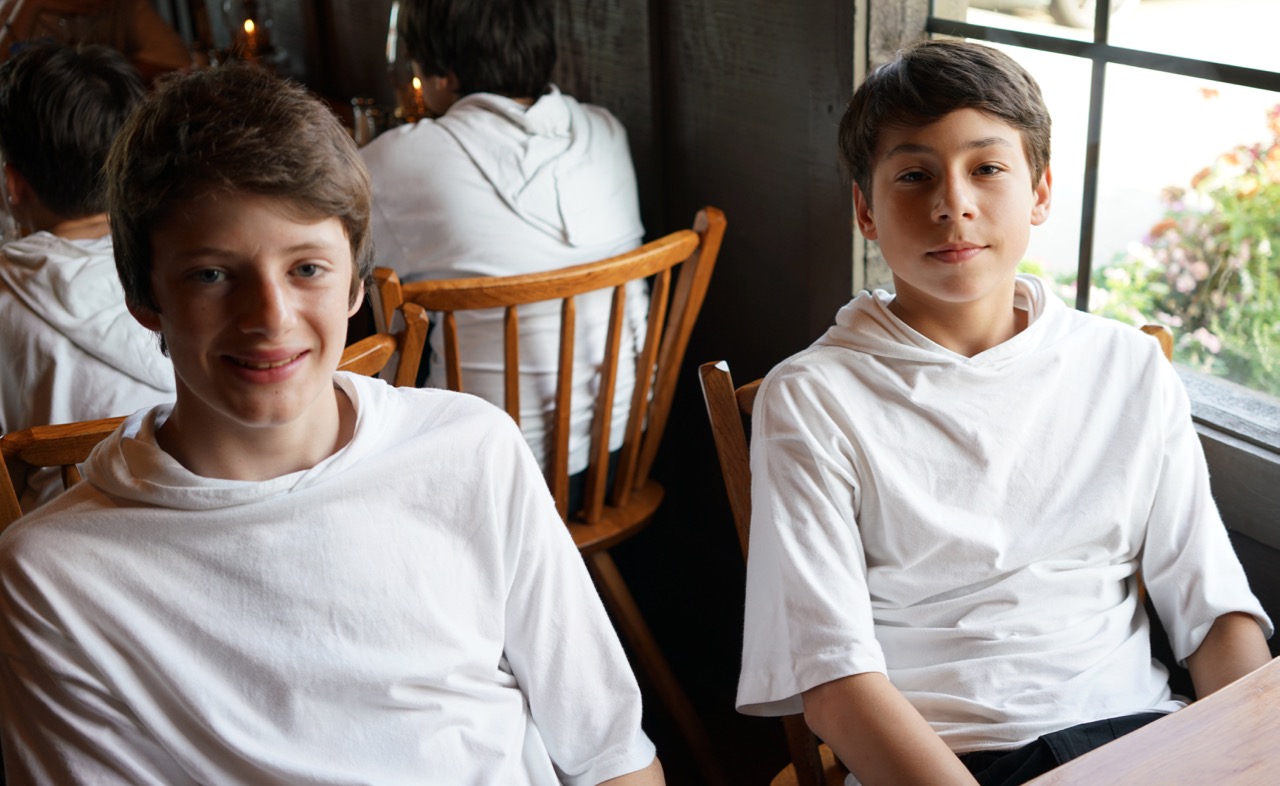 Our first 'taste' of Texas was……. Cracker Barrel.  A kind of traditional Texan restaurant where you could not only buy a burger but also a rocking chair or a toy pretend dagger with retractable blade and pretend blood – which proved a popular choice. In fact you can try out the rocking chairs which are always lined up on the veranda so we had half of Libera all rocking out front. We have been in a lot of Cracker Barrels and they are always laid out exactly the same way EXCEPT…. I have noticed that sometimes the Restrooms are the other way around. I discovered this as I walked into the wrong one. Anyhow, duly refreshed as another day passed we coached to our fantastic hotel – a Four Seasons seriously lush establishment. More news soon!