28th August 2016
Libera in Europe – Summer 2016 – Part 1
It was with excitement and enthusiasm, mixed with much yawning, that we met up with our coach 'home' for two weeks at the early hour of 5:50am on Monday, 25th July.  The Libera Summer 2016 tour was launched.
We had been told that getting through security at Dover might take longer than usual due to extra French checks – and there had been 12-mile queues the day before. But we sailed straight through and immediately got down to eating on board the ferry bound for Calais. Then it was back to the coach for our trek to Bad Frankenhausen in Germany where we would be staying the night.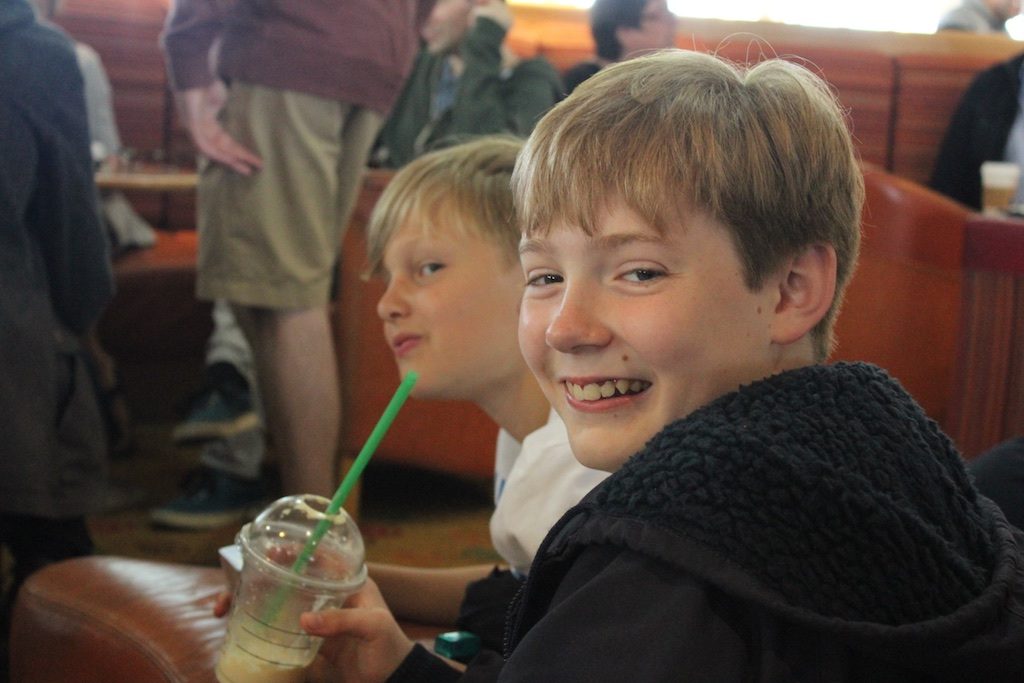 Journeys are always fun when Libera travel together.  We have a chance to chat -a lot – listen to music, watch DVDs and play games together – sometimes even sleep.  We always make time to break the journeys too as some of us are quite keen footballers and we have a kick about if there is room, or play Disease – a Libera special 'It' kind of game involving supposedly contagious chasers.  This time on the coach we spent quite a bit of the journey playing a game called Risk – showing that Libera members are all budding strategists and/or international tyrants.
We made it to Bad Frankenhausen (which was not Bad at all – a little language joke there) quite late but the nice hotel kept the food ready – the people were really friendly and our German language skills expanded to at least 10 words.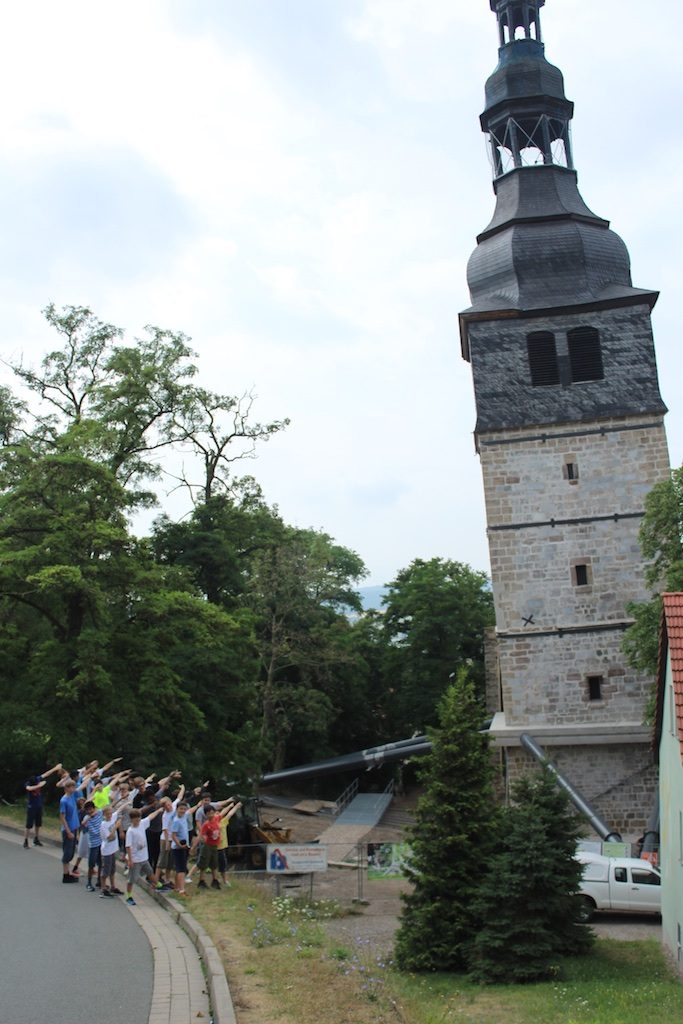 When we woke up we saw the Leaning Tower of Suurhusen and the view of the mountains but we didn't have time for sightseeing as we were soon back on the coach to continue our journey to Krakow, Poland.
By the way….. The Suurhusen Steeple is the world's most leaning tower that is unintentionally tilted, beating the Leaning Tower of Pisa by 1.22 degrees.
But back to the saga…. we were going to stay for six days in Krakow and we couldn't wait.  As we arrived in the city, we noticed immediately that there were a quadra-quin-gazillion young pilgrims walking around Krakow (though not as young as us), mostly in large groups with flags or hats or T-shirts proclaiming which of the many countries they came from. Everybody seemed to be happy and excited.
We had a top floor in a student hostel to ourselves and with our twin bunk bedded rooms it was quite luxurious compared to what a lot of the pilgrims had, with many of them camping on school hall floors, or even outside. We were quite central and really felt involved with the events – some of which….. were ours!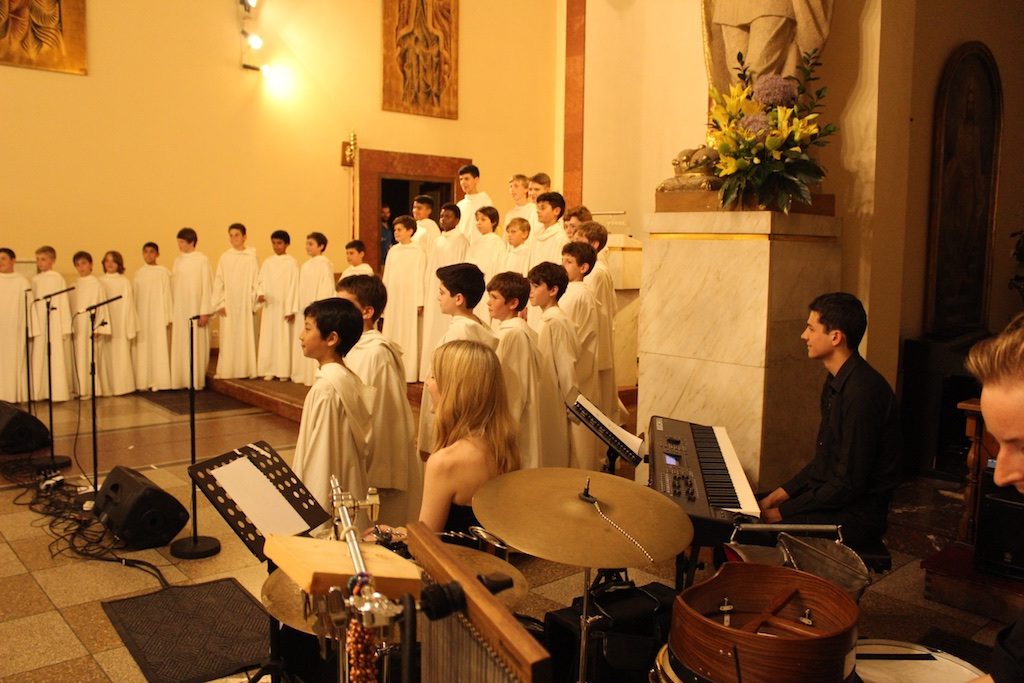 Our first concert was in a lovely church in Krakow.  The atmosphere was great and the acoustics wonderful. It was very busy and there were lots of flags and costumes, and the audience included a large group of Irish pilgrims.  Isaac got a cheer from them when he spoke some Irish.  Meantime, Alex G translated all our English introductions into Polish. We could never have enough languages for all the different countries people came from – but at least we had a small extract of quite a few different ones because of all the different family backgrounds of Libera. So we spoke sections in Mexican, French, Italian and Japanese as well as the aforementioned Polish and English – and we sang a verse of a song in German – plus if there were any ancient Romans present, we sang a lot in Latin too. It was fantastic to sing again after our journey and we were really excited to think of our next concerts having had a "taster" of the crowd's enthusiasm.
During our time off that day we went to a huge shopping mall.  We visited bookshops, sports shops and managed to sniff out the McDonalds. In fact, the shopping mall looked pretty much identical to ones in London – but with Zloty.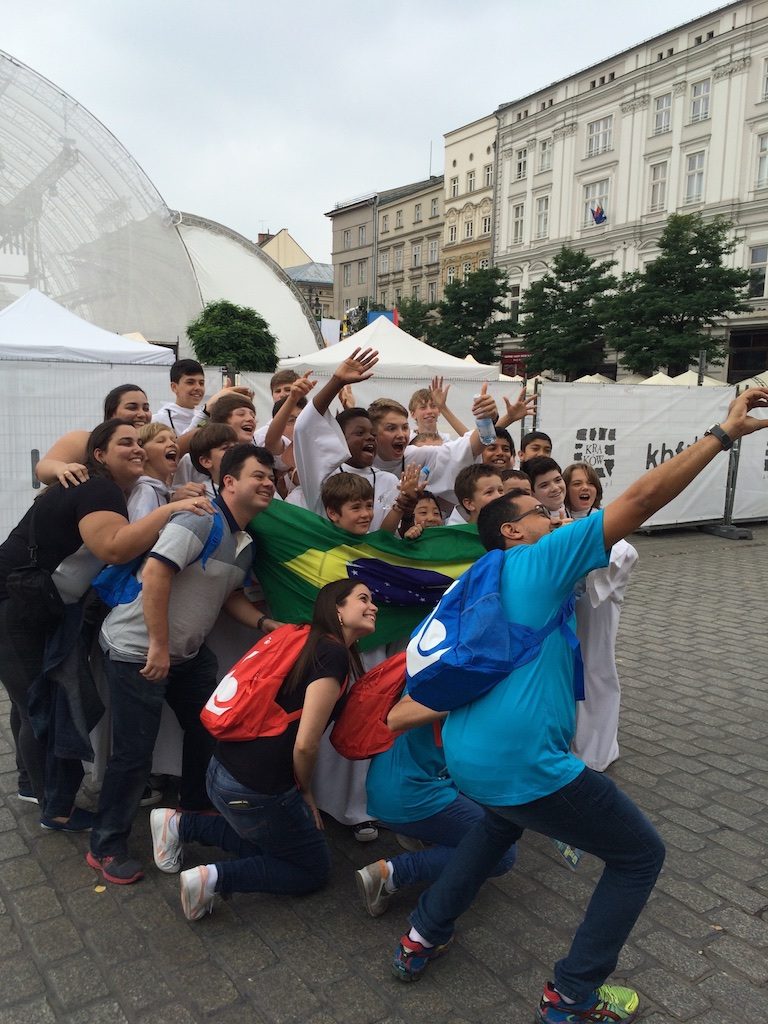 In the morning of our next concert in the main Krakow market square we had a sound-check. This attracted an audience that increased in size the more we sang. There was such a happy atmosphere with loads of cheering – and that was just the sound-check. We wandered round the square afterwards in our robes, and joined in many selfies, and a couple of television interviews.
The actual concert in the evening was amazing.  The stage was BIG, so we had to expand our moves and positions. The audience was also a little different.  Usually when we sing we have quite a static audience but the square was in high spirits, with dancing and happy cheering – plus a few ambulance sirens and helicopters flying overhead. It was a late night but a great night, full of noise and colour, really exciting and a lot of the huge crowd were chanting 'Libera' at the end. We had some impressive lighting effects, and also our Libera name projected above us.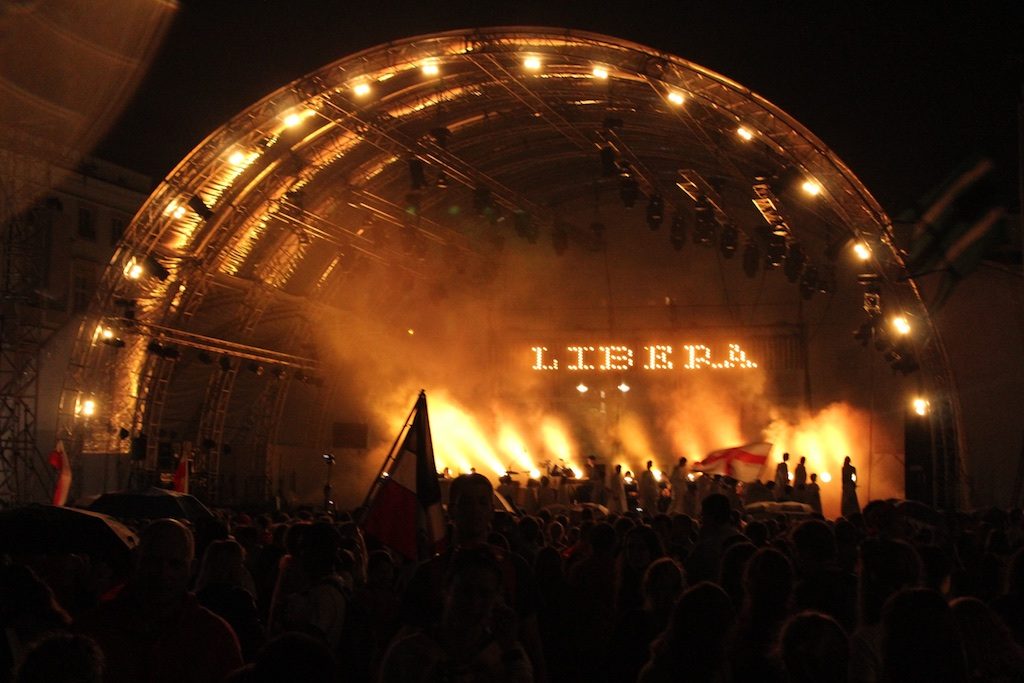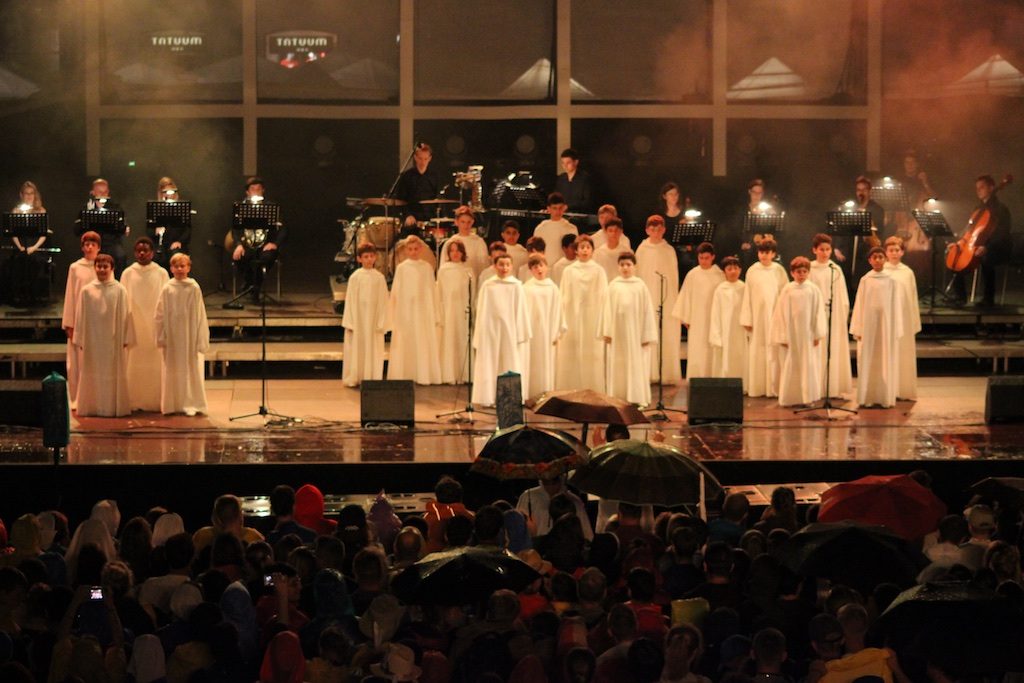 Obviously the next day the thing we needed most was to jump up and down for no apparent reason – so we went to a trampoline park.  It had all sorts of different activities.  The whole place was a kind of giant trampoline divided into different sections including two foam pits, and many interesting bouncy features to dive off and onto – plus other people to dive onto.
After a few tons of pizza we went back to the hostel to get changed into what we call our Sunday uniforms – blue shirts etc – and then we piled onto the coach to take us to the venue where we would be singing the next day – the main Vigil Event.  We had to pass through about 6 security checks – and each time had to show our passports as well as our special high-clearance back stage passes. It was all very friendly even though there were hundreds of policemen and soldiers everywhere.
This stage was even huger, BIG BIG, and seemed to be in the middle of nowhere – set on this field, the vastest of vast you could imagine.  There were lots of other performers around, a Gospel choir, a big choir, the orchestra and solo acts.  We listened to some of the acts and did a run through of the two songs we would be singing.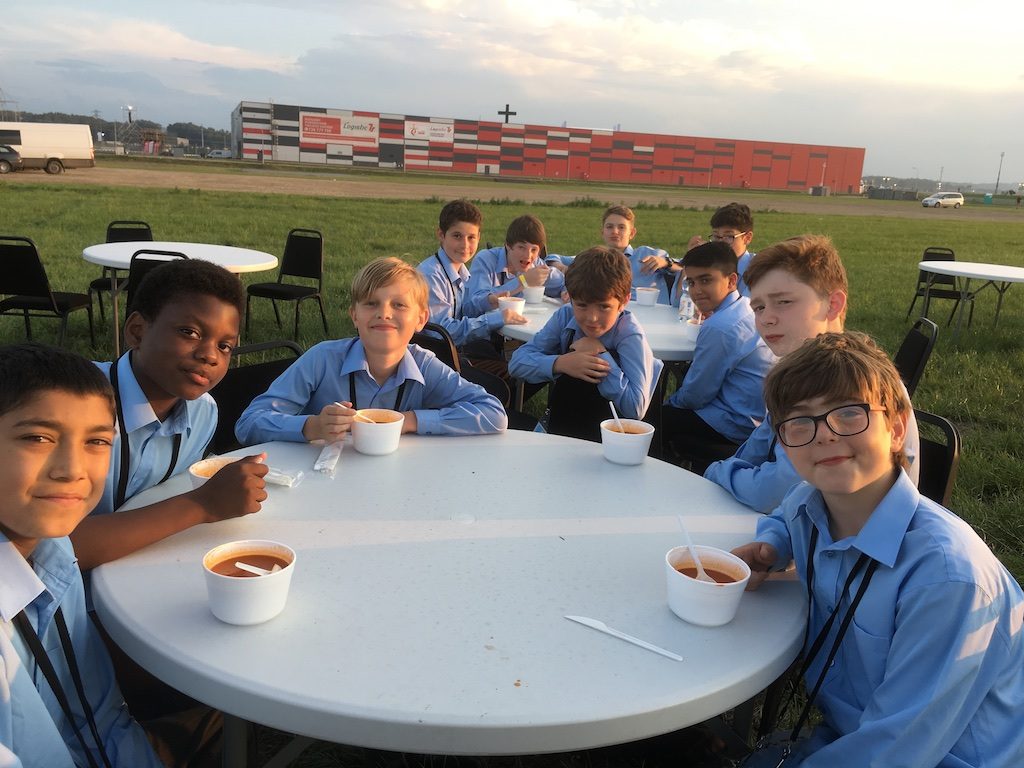 When we finished our run through we went for food in the hospitality area – we enjoyed tomato soup, roast chicken and some veggies and rice, really tasty. After dinner we headed back to the hostel for a good night sleep as we had an early start the next day.
The next day we had to be at the Vigil site quite early.  There was even more tight security.  There was a huge military presence and two helicopters on site.  The areas around the stage were slowly filling up with pilgrims.  We had to change into our robes to carry out a sound check and then had some waiting time when we played some Monopoly, chess, cards and performed conjuring tricks – a few of us read our books too.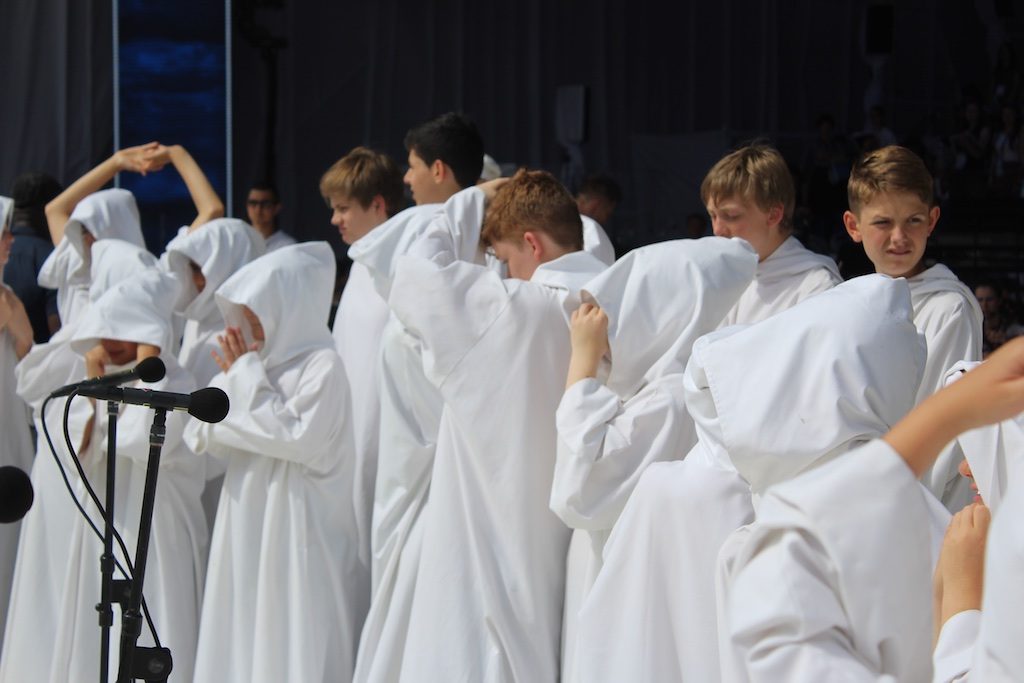 We had another sound check, and a rehearsal for the TV cameras to know where we would stand. It was boiling hot, and the sun was right in our eyes – which was a bit of a nuisance, as we had to look at the conductor to keep in time with the orchestra and he was right where the sun was – though closer. Luckily our robes have large hoods, so many of us protected our eyes with them – it probably looked a bit mad.
Before our performance we headed over to the hospitality area again and settled down for dinner.  Vegetable soup, a roast and vegetables – and then just as we were eating we heard some cars arriving and saw that one of them was……….. the "Popemobile"!  We all got up and ran after it – thousands of cheering pilgrims on one side of the road, on the other side, 30 Libera blue shirt boys charging along and waving to Pope Francis.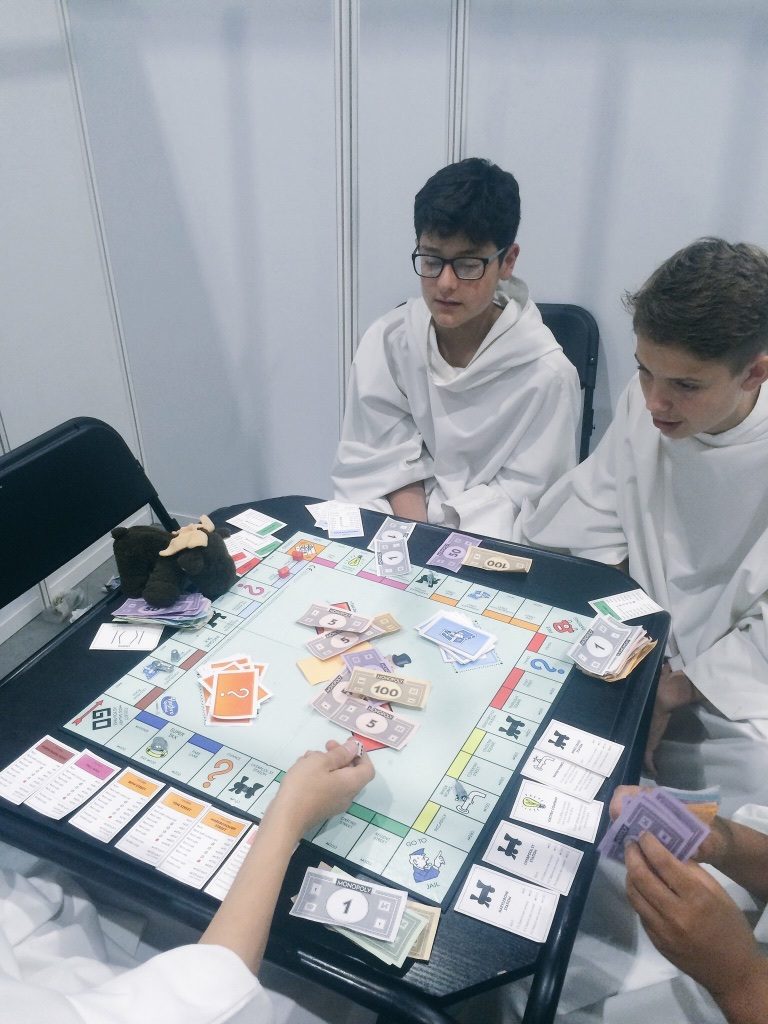 The weather for the concert was clear and warm, though by now the sun had set and lights twinkled across the gigantic campus.  We found out later there were over 1.6 million people there – a few more than we usually sing for!  The atmosphere was electric.  People singing and talking, flags waving – a real party atmosphere.  The concert was great and acts were varied – all singing in different languages, though there was only one performer from Britain apart from us.
It all went very quiet just before we sang, and Alessandro had to start up all by himself. Just beforehand, back stage, he had been jumping and messing around with Alex Mont, up until about 10 seconds before we were due on – then he crossed himself and walked on for the solo. People often wonder whether we get nervous, and maybe we do, but sometimes it's difficult to tell if you saw some of us just beforehand.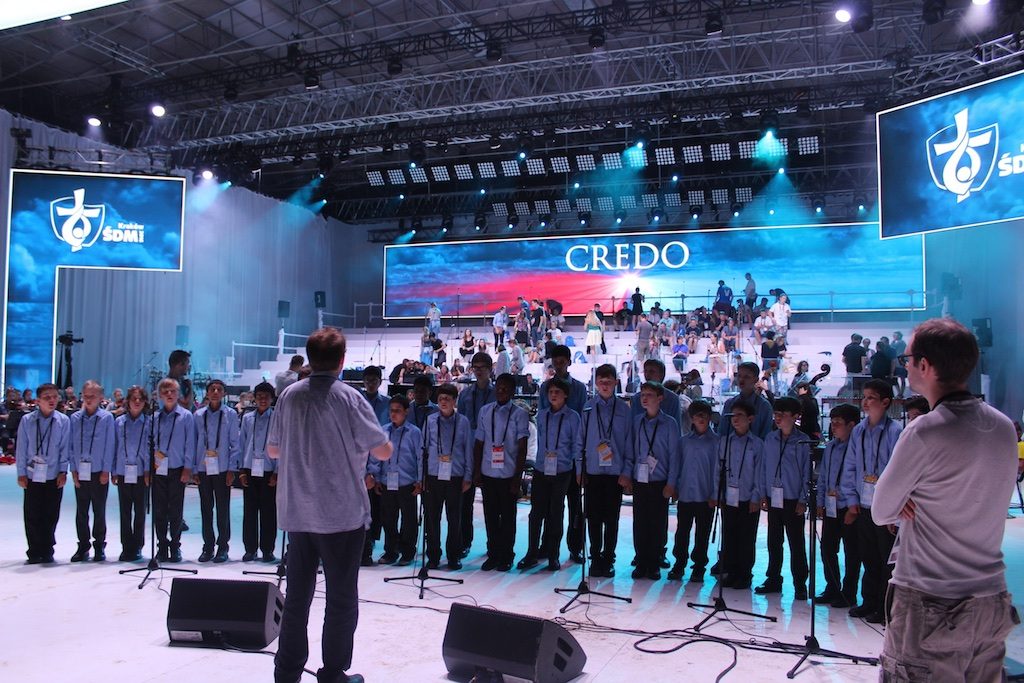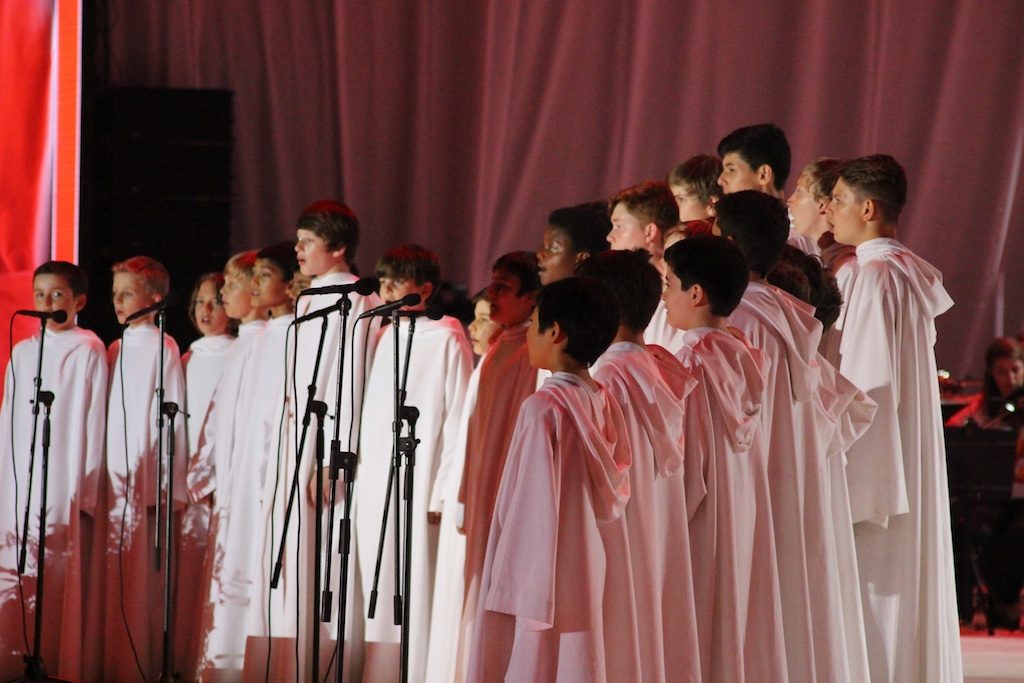 After our performance the security clearance for the coaches took a very long time, like about 2 hours, so we had to wait around for ages in the road outside. We filled in some time with Sam sharing his astrological knowledge and his clever night sky map app – we all learned a lot about the stars – and the sky names – the 'Plough' for instance.
Our work done in Poland we had a couple of days to enjoy some free time. Having had such a brilliant time there previously we returned to the trampoline park and bounced off some energy before going swimming at an amazing water park which was better than anything we had been to at home.  The water park had six water slides, each varying in length, speed, shape and colour.  It had climbing walls in the water, water polo facilities, an obstacle course and an Olympic sized pool with swimming lanes.  Libera's favourite however was the area with a water current that carried us around a circular course, all of us having a great time and trying to cling to the wall amongst much laughter.
Unfortunately our time in Krakow had come to an end but now we were Germany bound.  We were really sorry to leave as we had been made to feel so welcome and had enjoyed an amazing experience.  Hopefully it won't be too long before we return.  Dziekuje Ci Poland!
The Story continues soon…….