6th May 2019
Phantastic Philippines
England. Grey skies, grey buildings and lots of exciting news about Brexit, whatever that is. But good day to England, our rather spiffy friend, and mabuhay na Pilipinas!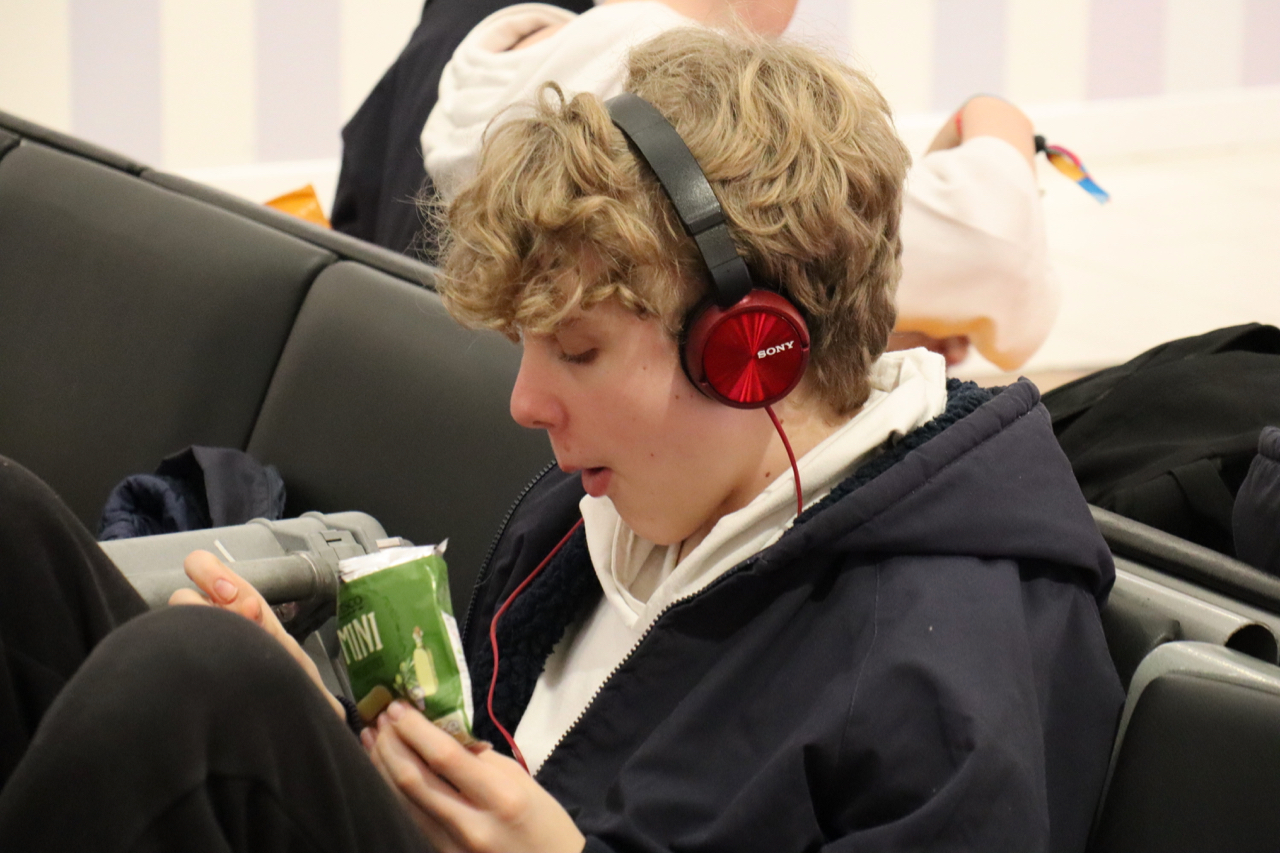 We set off on our journey on a Friday afternoon after a hard day at school and arrived maybe just a tad late (30 minutes), checked in, got through security and then were instantly absorbed by screens and the great selection of films aboard our emeritorious Emirates Airlines flight. After many movies and not much sleep we landed in Dubai to change flights and boarded our second flight to Manila. We eventually arrived with our sleep clocks totally upside down. But soon we reached our first site of accommodation and collapsed into our very comfy beds after we had brushed our teeth.
Our first day in the 'pearl of the orient sea' started with a delish breakfast followed by a visit to the Manila Ocean Park where we saw jellyfish, snakes and a sea lion show. After some great tricks, courtesy of the sea lions, and a thorough tour of the park we took the coach to the nearby Mall for a meet and greet signing with our lovely friends from across the globe.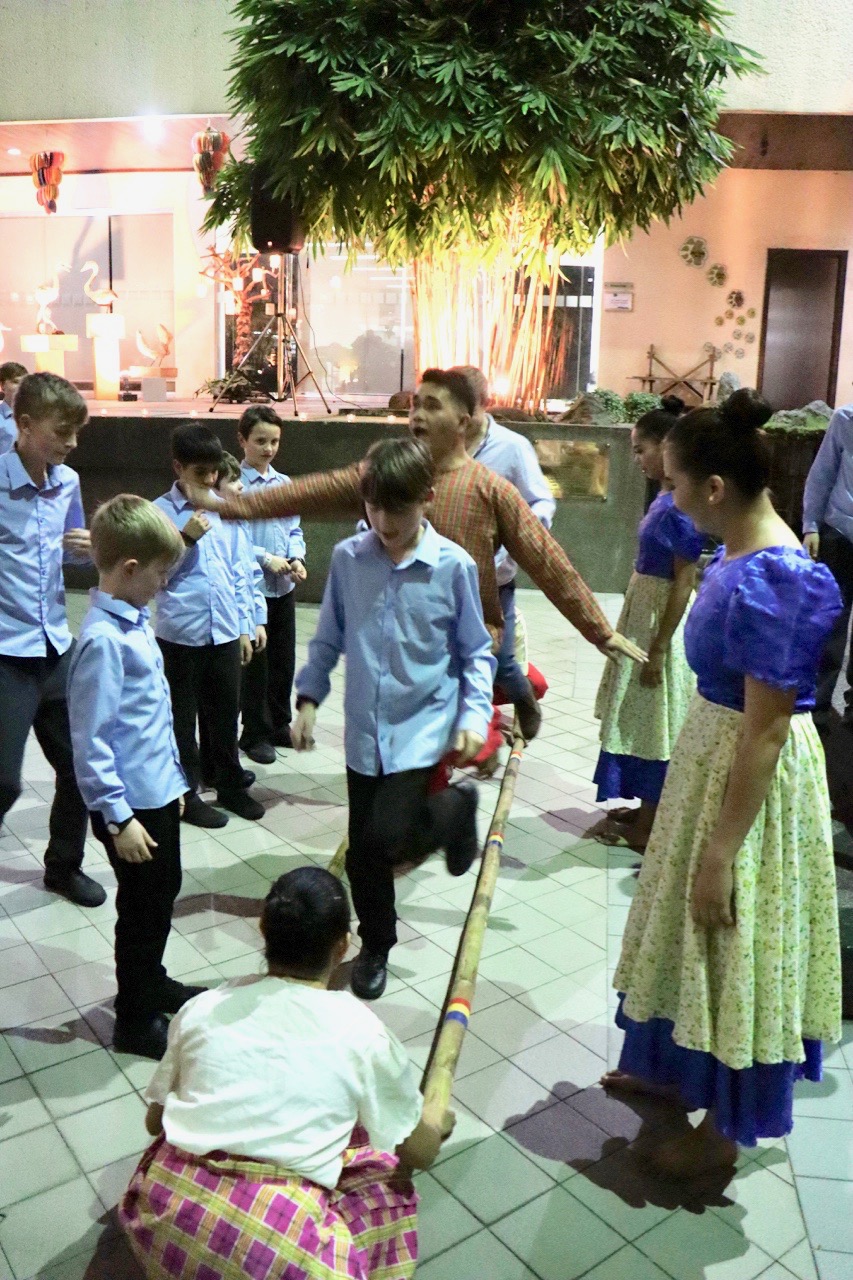 With copies signed we headed back to our accommodation and exercised our thumbs for a bit, like the social people we are, before making our way to the courtyard for a dinner with a whole pig and some traditional dances of the region performed for us by a fantastic troupe who also taught some dances to us.  This involved us not getting our ankles caught between two wooden poles which were moving fast to the beat of the music. I think the pole movers were being nice to us, because we did not get poled very much even though some of us are not very nimble-footed to say the least. We then brushed our teeth and went to bed.
We awoke to a lovely and mango-populated breakfast after which a few of us proceeded to a press conference. After answering the questions given to us and a group shot we re-joined the rest of the group for our first rehearsal of the Philippines. After a very productive rehearsal in which many notes for improvement were taken on board we made our way to the Polo Club. We played badminton in the hall and then had a lovely swim in the club's pool with a 2m diving board which many jumped, dived, or simply fell from. We then came back home to England, or as close as one can get in the Philippines as one might say; I am, of course referring to the British Embassy at a party hosted by the ambassador himself. After a performance, many ice teas and snacks we headed back to base for a treat – birthday cake for any of us who had a birthday in February, which was a delicious chocolate sponge and then we fell back into a deep comfortable sleep after brushing our chocolate teeth.
Twas the rising sun warming the air and the azure sky that didst waken us from our slumber for breakfast. After this a short rehearsal was in order and we then proceeded to our next destination, a favourite among us, Balik Bayan handicrafts, with trinkets ranging from art to furniture to horns – accompanied by several of us playing piano and various percussion instruments. We sampled local dried delicacies in-store and of course we all bought gifts for our family back home. Puis on a mangé de un dejeuner delicieux dans l'hotel (I have a French exam soon) and then to the venue we went; said venue was the Meralco Theatre and after our usual sound-check followed by quiet time routine we ate a quick dinner and prepared for the concert. The audience was lovely and there was rapturous applause throughout and then total rapturousness at the appearance of Bayan Ko, a favourite song of the Philippines. Then exhausted and happy, we went to brush our teeth and go to sleep.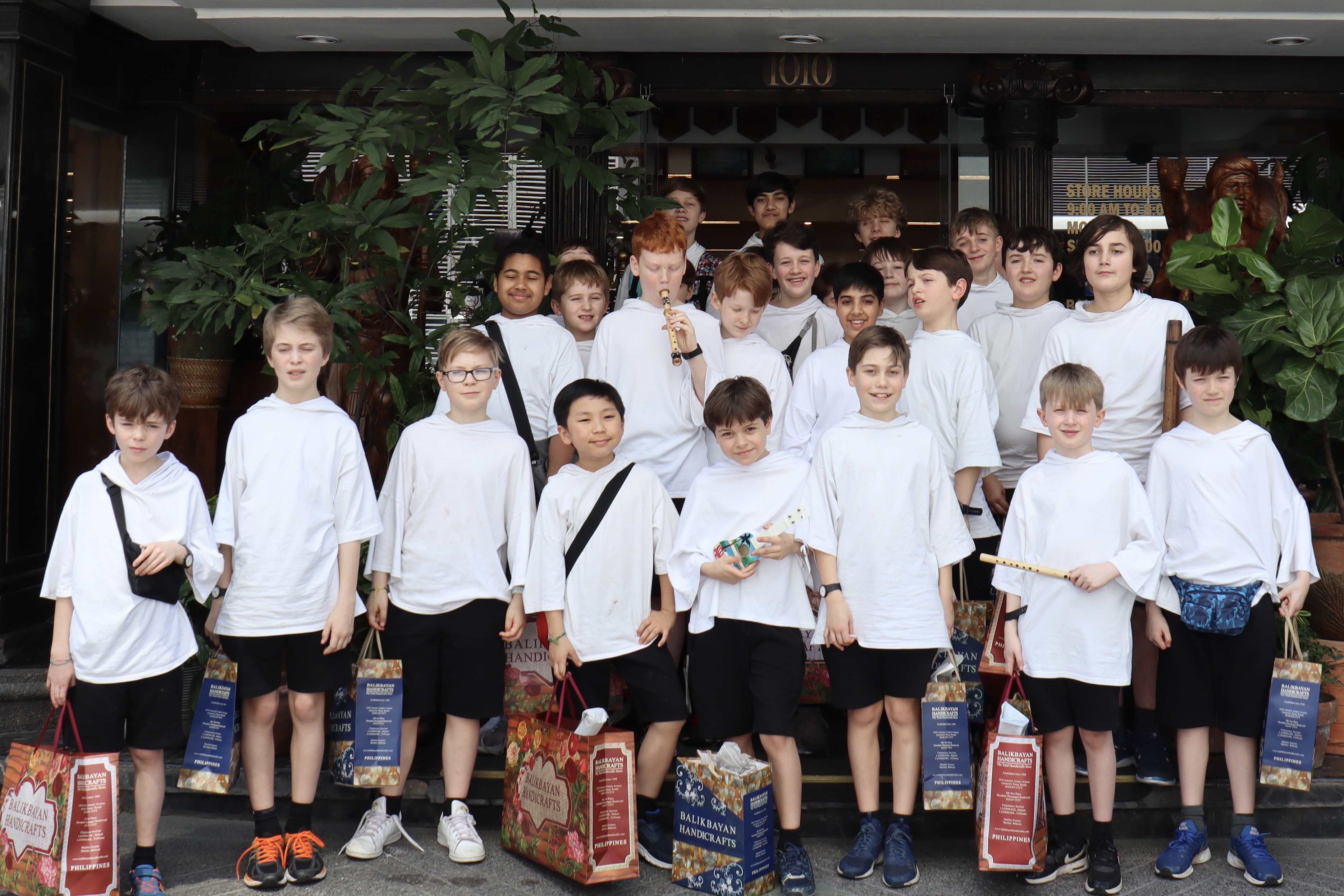 After breakfast the next day we boarded the coach and were transported to Kidzania Manila where we tried flying a plane, radio presenting, and something we've never done before, being music artists – ha ha. Shortly after this we went back to the polo club for a refreshing swim; from this we moved on to the Mr D special dinner – Mr D being Roberto de Ocampo our amazing host – with music provided by banda kawayan (bamboo band). From glockenspiels to rattles to huge pan pipes they put on quite the show of many different genres of music (my personal favourite being the Beatles medley at the start). And then we were all allowed to have a go on their instruments. Then we took the coach back and crashed onto our cushioned mattresses awaiting tomorrow though first we had brushed our teeth.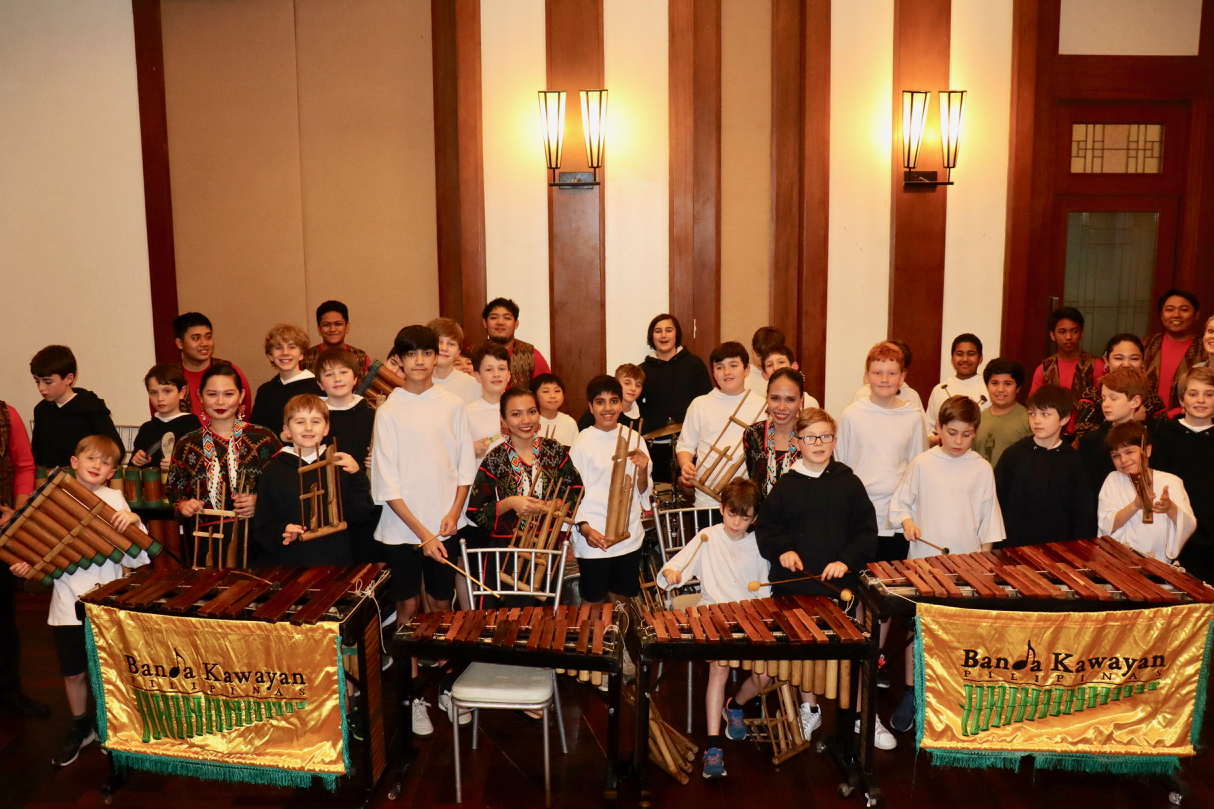 Our last breakfast in Manila greeted our groggy faces early the next morning but we pushed onwards to the airport and checked in for our flight to Cebu, which was sadly delayed by an hour or two.  When the plane did arrive we boarded our flight and within a few short hours we had landed. We then went to a large mall near where we were staying for a meet and greet.  After this we took the lift to the roof of the mall and had an al fresco meal before being given the gift of a lovely Cebu t-shirt and cap.  The day finished with us checking into the Radisson Blue hotel and brushing out teeth.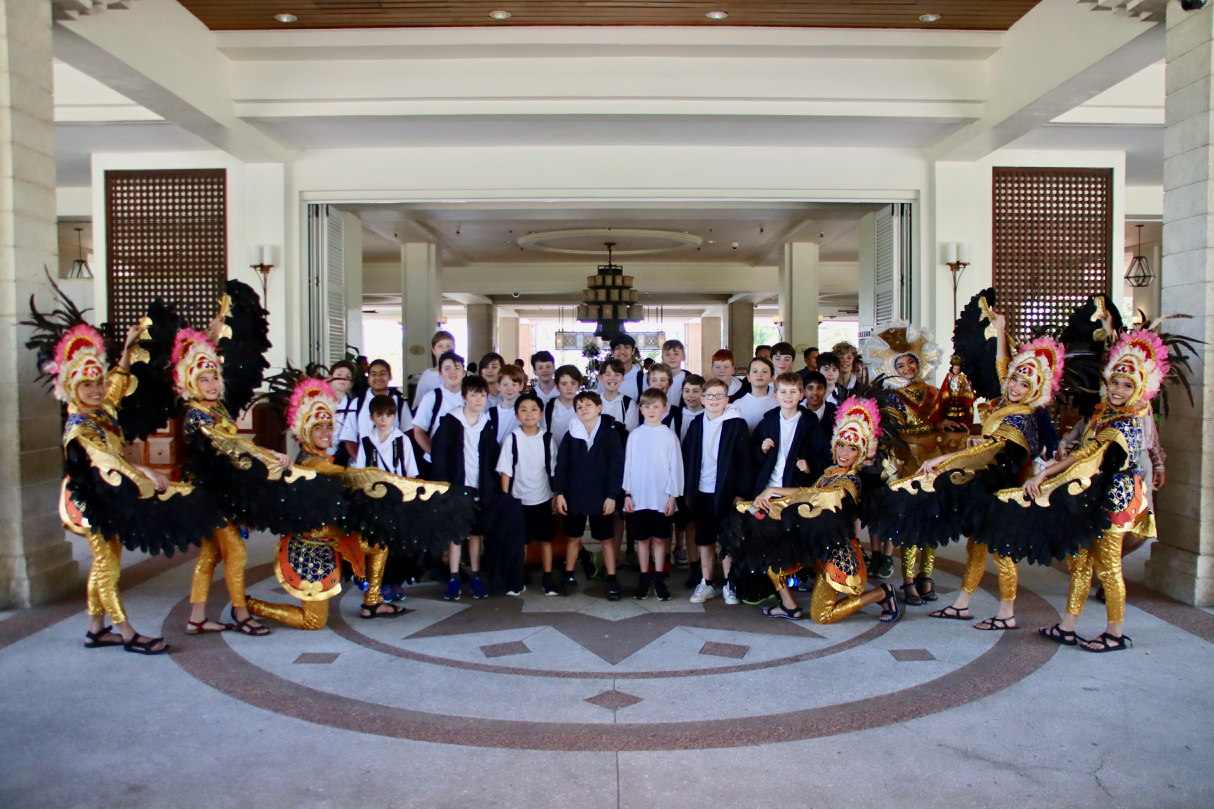 The next day we awoke to a huge breakfast in the hotel but sadly our stay at the Radisson Blue would be short-lived as we boarded the coach to go to the legendary (amongst Libera boys) Shangri-La where we were welcomed by a large band of musicians and dancers dressed in traditional costume. We discovered the large games arcade that the resort had to offer and then after lunch we came to the main event of the day: the banana boat!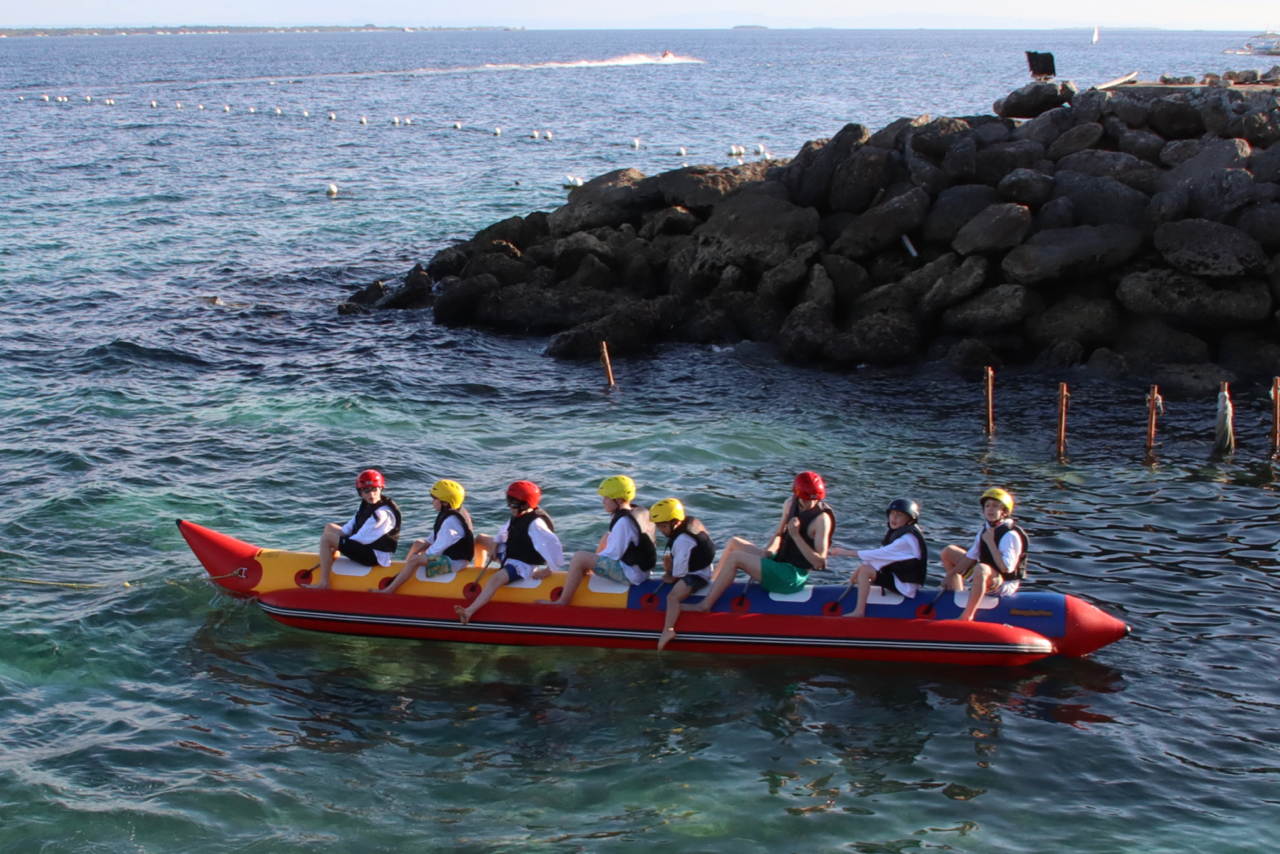 After the safety talk and life-jacket and helmet fitting, this was a mixture of terror and pure adrenalin that left us slightly dizzy afterwards with many boats capsizing multiple times.  We then swam in one of the many pools at the Shangri‑La which had a flume and a waterfall. After a delicious dinner and a bit of TV we slept soundly through the night in some very comfortable beds with very clean recently brushed teeth.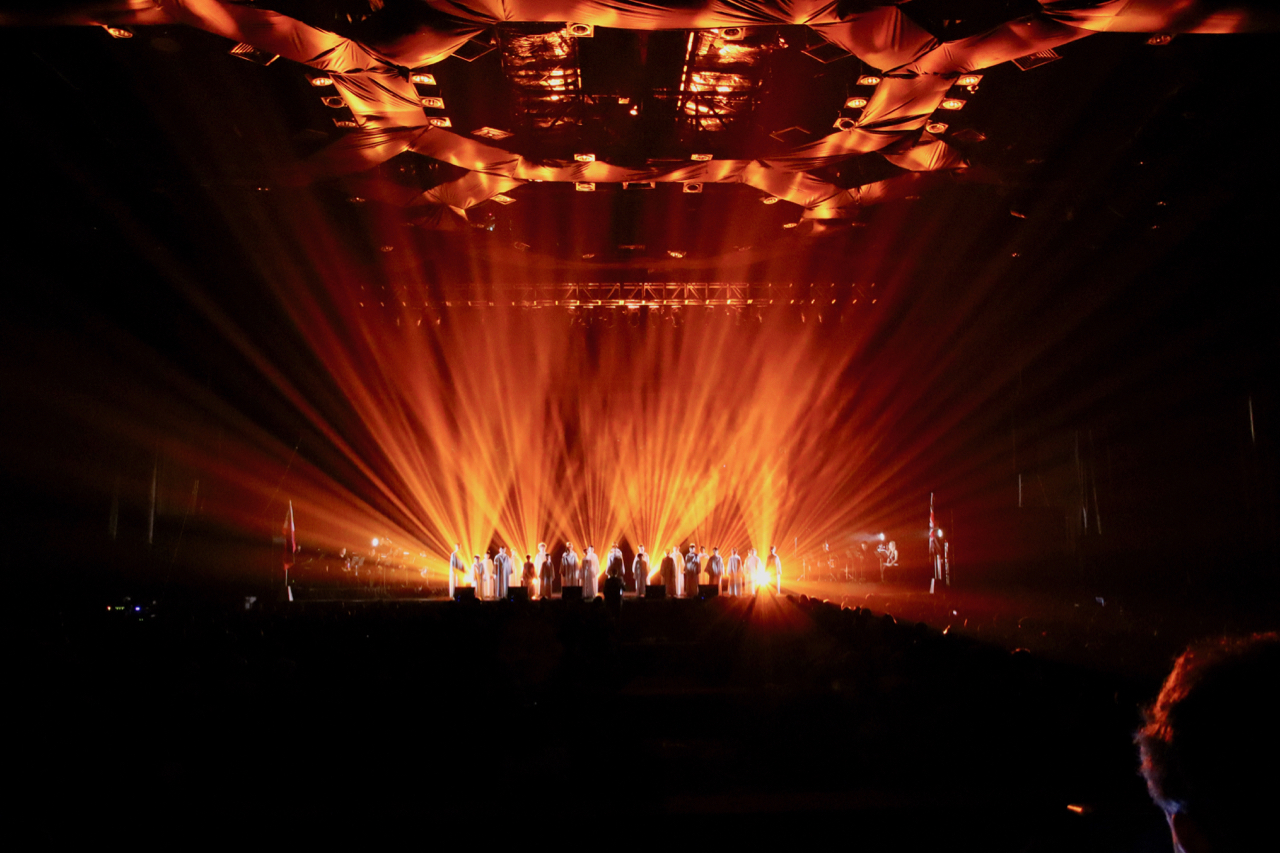 And so sadly to our final day in this wonderful tour which started with a hearty breakfast and then a rehearsal at our venue at the Waterfront Hotel which was VAST – with seating for about 3000 people. We had our usual soundcheck and rehearsal then we changed and spent some time reading in our changing room after which we had a snack and then prepared ourselves for the concert which went just as well as the previous one with an appreciative audience (especially of Bayan Ko).  That night we fell wearily into beds dreaming of home and many more chances to brush our teeth.
The journey home the next day was long – via Manila, then a midnight stopover in Dubai, before boarding the final leg to London – but all went swimmingly and we arrived safe and sound back into the loving arms of our families.
Paalam at salamat Pilipinas!