22nd August 2012
Jersey and Guernsey Part 2
Continued from Part 1…….
We packed up from the Jersey youth hostel, and being in dorms of 8 meant it took a bit longer than usual to pack because certain people spread their belongings all over the room. However, we were soon on our way to the port, via coach. It was lovely weather –sunny as usual – but a bit too hot.
The ferry ride was fairly short, and eating on very bumpy waves made it very interesting indeed. Seasickness aside however, we had made it to our final destination: Guernsey.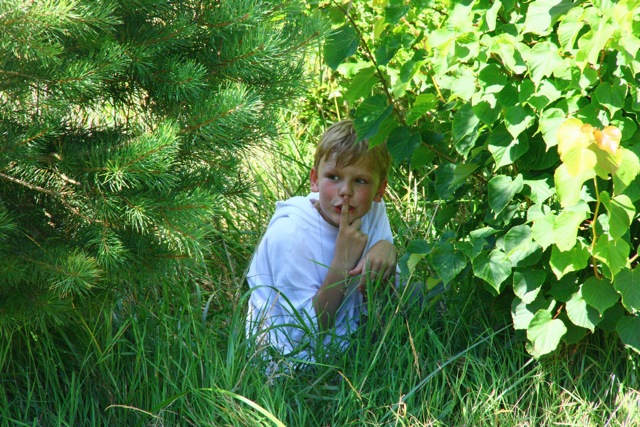 I must say, on first sight the hotel looked spiffing. I say 'spiffing' as it looked quite posh, with lovely trimmed hedges and gardens surrounding it. However we ignored the scenery and checked in to our hotel.
After checking in, we explored the field, playing a huge game of hide and seek and 40-40 home. Some of us hid so well we weren't even found when we were told to come in! We had to spend the night outside, just to make sure we won the game. Not really.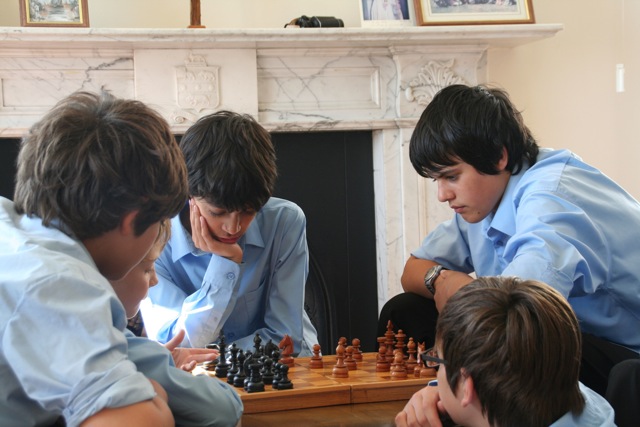 We had our first dinner in the hotel, and ate some pretty amazing food. We were definitely looking forward to our stay here, especially since we were allowed to use three lounges and even a large chess set.The day ended with us watching some 'Horrible histories'.
The next day began with another lovely meal, this time at breakfast. We were all pretty excited as well, as today was going to be our first concert in Guernsey. Not many of us had been to Guernsey either, so we all found it pretty welcoming.
Before we had to leave for the concert, we had some free time. In the rooms we set up some gaming devices, and also some croquet outside. And yes, we do know how to play croquet properly!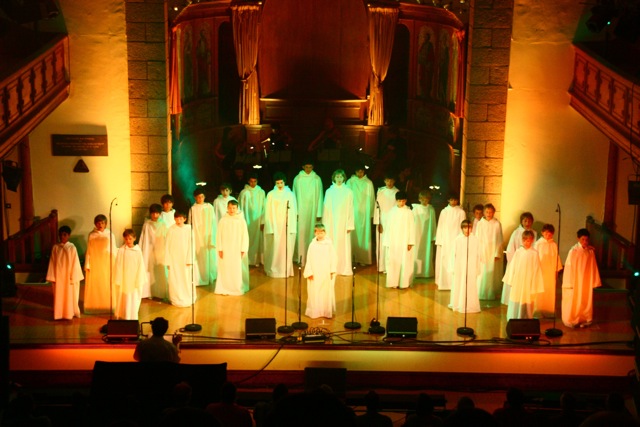 We had a quick lunch, and then prepared for our show at St James – which is a concert hall converted from a church.  On the way, we handed out some leaflets. Another sound-check, as usual, and we were raring to go. St. James had a very nice acoustic – it was very nice to sing in, and I sounded fantastic, if I say so myself. A quick snack, and then we went on stage.
The show went well, and we slept tight.
The next day began with another nice breakfast, and then something we hadn't done in a while: we were going bowling! I have to say, even though the island is fairly small, it was quite a trek to the bowling centre. However when we were there, it was fun. Various shouts were heard when strikes and spares we played. We asked for the barriers, so no gutter balls. It was all going well, until someone bowled to hard and knocked the barrier over…woops.
After bowling it was time to go back to St. James for our second concert. The usual routine occurred, with a sound-check before a quick snack and then our last concert this tour.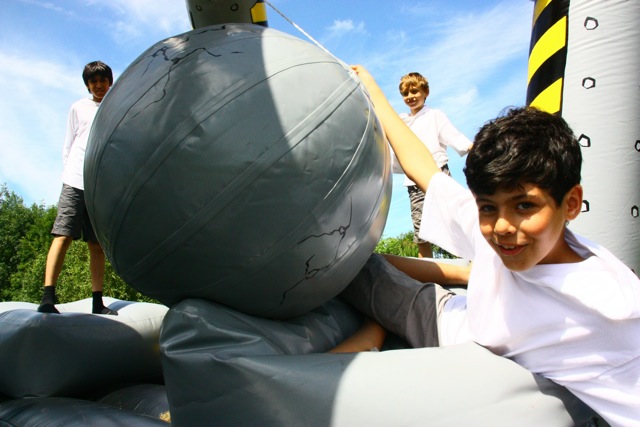 Our next day was all a big surprise. We hopped on our coach and took a short drive to our 'mystery destination'. We definitely knew it was going to be fun when we arrived: we saw bouncy castles – three of them – each with different gladiator-style stuff. One had a wrecking ball in the middle, with the aim to knock off another person off the 4 different podiums. Another was a one-on-one battle with two 'battling rams'. The final one, well, we were unsure of exactly what to do, but it involved a long beam with a sword and a shield. It was very hot weather, so we ran out of energy pretty quickly.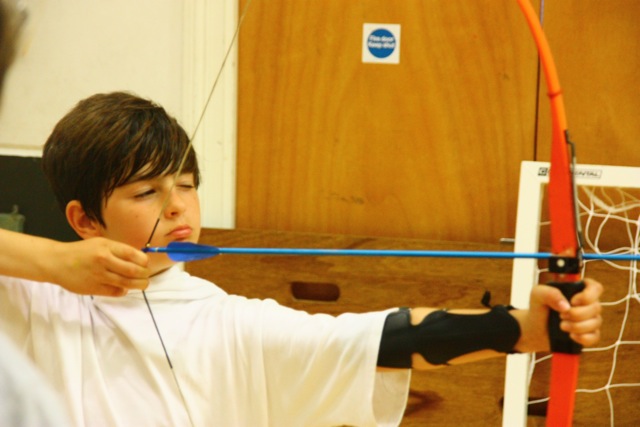 We split into two groups. Whilst one group was enjoying the inflatable gladiator things, the other group was sent inside to do some archery!
We ran through a quick safety demonstration, and then let all arrows break loose. It was surprisingly difficult. We even pinned down balloons, and try to pop them. It was great.
After the first activities, we entered the main hall: to begin a Libera 7-a-side football tournament! It was indoors, and we didn't really bother with all the official rules.  Kavana's team won, if you were interested.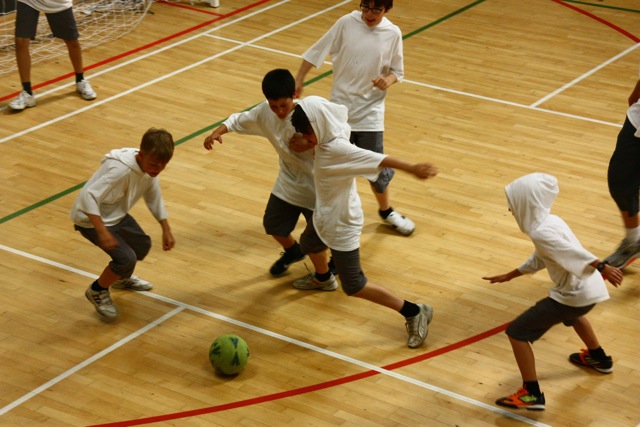 After the football came lunch: a selection of sandwiches, fruit and crisps. Then we changed into our swimmers, because to end the day we were going to play all sorts of water-based activities. I'm not even going to mention the excitement.
It started with a game of disease: one person is a zombie and has to spread the disease throughout everyone. Its very difficult, especially as hiding in a bush for a long time gives you cramps. Cassius however managed to stay hidden, right until everyone began playing 'splat': a shooting style game around the circle, except this time with water guns and sponges. You need quick reactions for that, or you're soaked. Then came water-hose limbo; dodge the water, or you'll get drenched. It was all fun. But then of course came the all out water fight. 1 minute to choose your weapons, then sponges begin chucking, water guns begin shooting, and hoses, well, they spray everyone. It was a great way to end the day.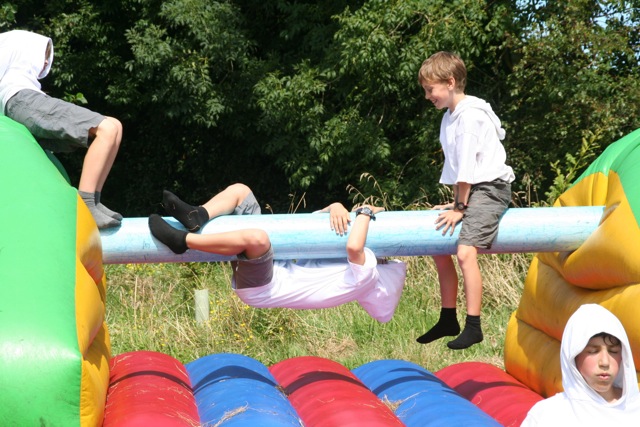 However, it was also a great way to end the tour. We got back for dinner, watched two episodes of the Simpsons and went quickly to bed. We woke up the next day, had some more free time, and then packed. We said our final goodbyes as we boarded our coach to port, went through the usual stages of boat boarding, and boarded our ferry home.
Well that's it. Our Channel Islands tour is finally over. Thank you all for reading, and we hope to see you soon!