23rd April 2011
Canada Tour Blog part 2
Previously, you heard of our arrival, and of our various trips and concerts. Well, here's some more info for you on the Libera Canada tour.
The day after the St. Andrew's concert was pretty calm. We got up late after a well-deserved sleep, and had our regular over-intake of food. We later discovered something you don't see in England often. Underground cities. The Necropolis is probably the closest you could get to one of those in Europe. Anyway, there was this passageway under the hotel, which led to this fantastic complex of underground shops and restaurants. It was strange and amazing at the same time! But there was nobody around, so for about three quarters of the way it was spookily empty. When we finally found life, we discovered that we were slowly creeping back up to the Earth's surface from the mantle. And also that Big Ben's scarf could swallow Barney completely whole. And also that it was raining outside. A lot. Oh dear. So we sped across the street to the cinema to watch a film called Rio. It was better than we thought it would be actually – quite worth seeing if you haven't done so already. Anyway after the film we just stayed in the hotel, because it was raining so heavily. So that was the rather damp end of Saturday.
The weather continued to be overcast on Sunday, however instead of raining, snoww and sleet was falling from the sky. It was quite spectacular; it actually looked like a snowstorm from the hotel!  Anyway, we went to a bowling alley for a bit. It was pretty fun, actually. Many people scored strikes, and there was a lot of slipping and sliding on the overly polished floors! Meanwhile, our tech crew had to gear up the van for the concert that night – in that weather!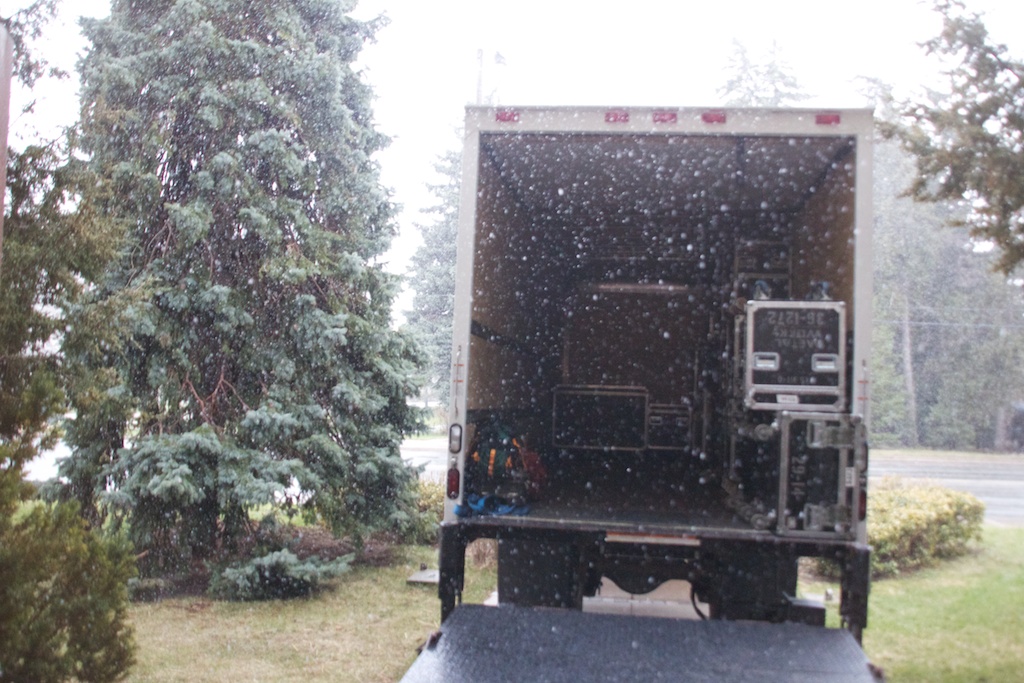 It was a huge struggle, but because they are so fantastic they managed it, and the concert at 'Islington United Church went very well indeed. It may have been a small area for our different formations, but we thought we pulled it off very well. We even managed to fit everyone on the stage, whilst also finding room for Steven and his keyboard, the string quartet, Simon his percussion stuff, the speakers, mixing desk, microphones and the grand piano!
Monday was equally eventful. In the morning, sadly, we left the amazing Fairmont hotel and boarded the coach. We had quite a long journey up from Toronto to Kitchener, where we performed a little demonstration to school kids aged from about 8 to 16 in St. Mary's Church at half past one. The place was pretty much packed! We received a great reception from them, which was especially important to us because these people really appreciated what we did, and they were our age so we could think of them as our peers. Anyhow, after that we went to the hotel, dumped our bags, and then left to go to Music Plus, which is a huge music shop in Kitchener. Bill, the man who owns it, helped lots with the tour, and also organized a delicious Mexican-style lunch, with wraps, tortillas, and spicy salsa! It was very tasty, and filling. We then had a look around the shop. Some people bought manuscripts and novelty music things, while others decided to get the loudest percussion instruments they possibly could.
The noise in the coach afterwards was deafening. Anyway, after that musical interlude, we drove to the Centre in the Square theatre to perform our only theatre concert.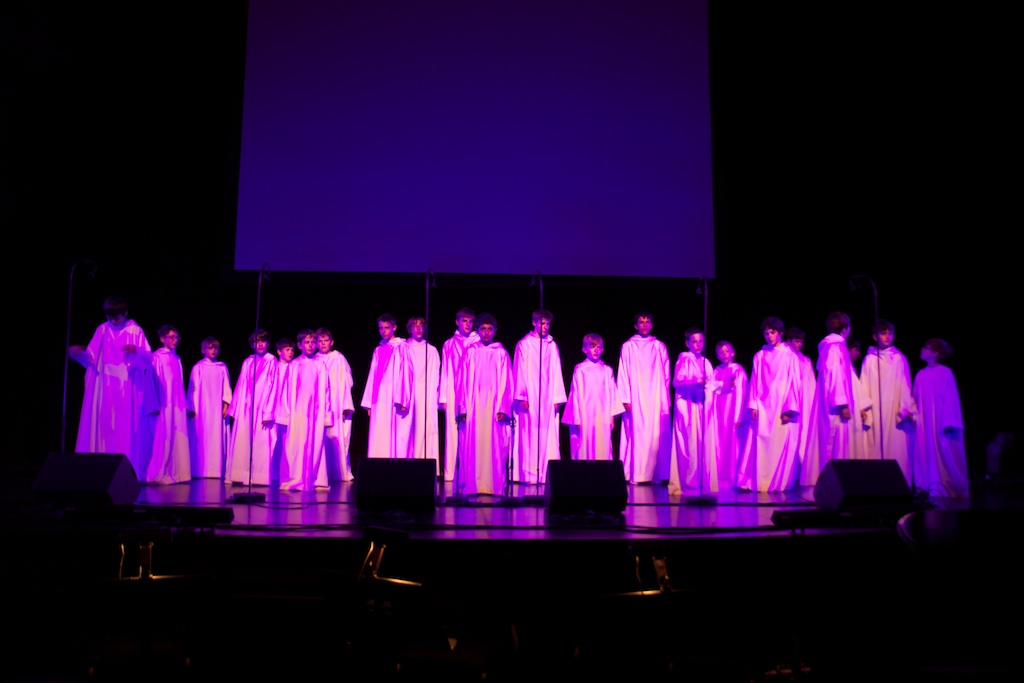 This place was enormous, and so was the stage. We now had the opposite problem to the previous night's concert; we had too much space! But any road up, the concert there went really well, and we filled up quite a lot of the theatre.
That puts another great concert in the bag.
The next day we packed our bags again, said goodbye to Kitchener and travelled to Chatham Congregational Church. It had a really shiny black floor, and that really made the lighting look extra effective! It also had balconies, so the string quartet was on one side of the room, whilst Steven (on the various wind instruments and the keyboard) and Simon (on percussion) were on the other side.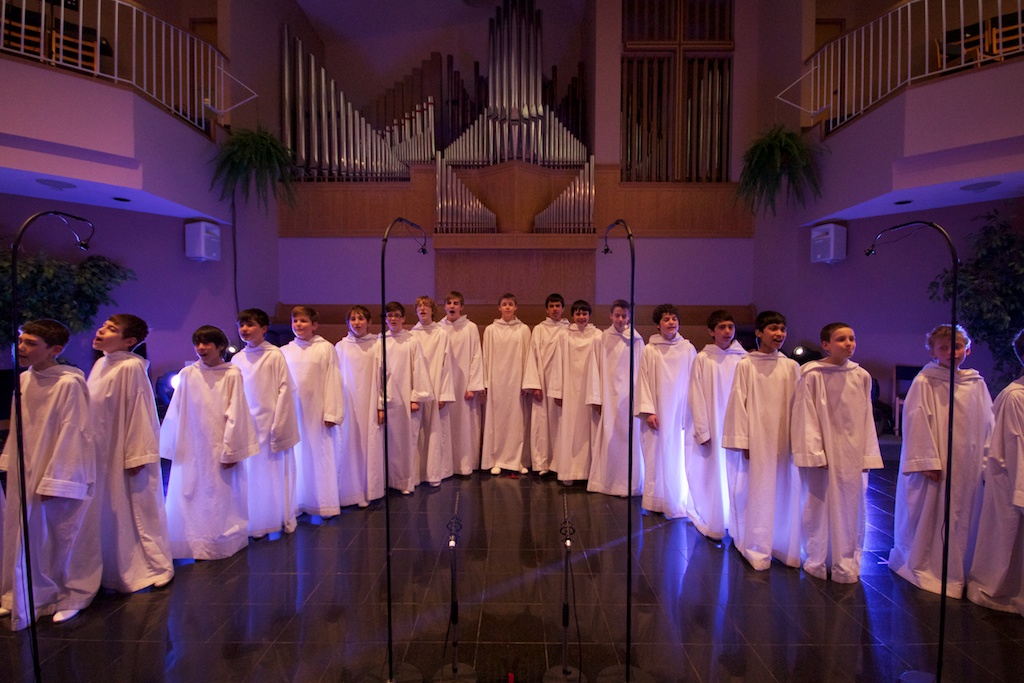 This gave the music a cool panned effect that really added to the Libera sound. That concert also went really well, and the pastor even told us afterwards how good he thought it was. Luckily for us, our new hotel was just up the road so we got home pretty early and went straight to bed; we had to drive back to Toronto the next day.
I think now is a good point to say that some of the older ones like myself and JB have been revising for exams throughout the entire trip. I know, it is very very dull. However, it has to be done – the exams are quite important. But coach journeys are great opportunities for us to do work, and so the five-hour trip back to Toronto on Wednesday didn't pass too slowly. When we got back to the beloved Fairmount hotel, however, we dumped all our stuff in the rooms and went for a swim in the pool. That was pretty fun, and also very refreshing after such a long journey. It was quite late when we finished, so we went to a buffet-type place for dinner and went to bed. A week run of concerts is fun, but really tiring!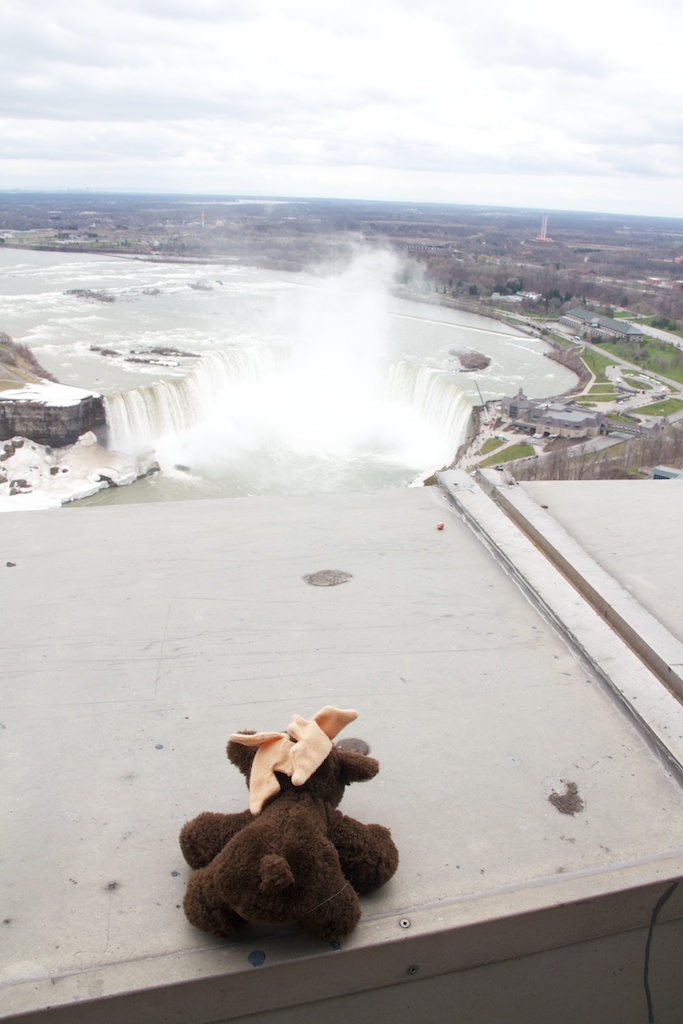 Yesterday we got up at a reasonable time, for we were going to Niagara Falls! Yes, it is spelt with an extra "a" after the "g". I didn't know that either until we went there to see the Falls! They were beautiful. Seeing them from the Canadian side is much better as you're on an elevated viewpoint away from the Falls. We went up the Skylon tower (which looks like a miniature CN Tower) and from the top you could see the Falls and the entire area around them.
It's all really confusing in that region – the land curves a lot and you're not quite sure what's Canada and what's America.  Anyhow, after going up to the sky deck, we went down a level to the revolving restaurant. This was even more confusing. The middle was stationary, the next part moved, and then the outside – i.e. the windows – were stationary. I had a seat by the window, so it was really cool seeing everything as we turned and dined. One funny little thing was that there was a ledge by the window, so if you put anything on it like a camera or something, one minute it would be there and the next minute it would be some table on the other side of the room, because you have moved! That was really cool, having revolving lunch. After that we went down into the Falls. There was this place where you could go behind the falls and look at it crashing down from the other side. That was quite worthwhile. What was odd, however, was that the spray of water coming off the Falls and onto our faces was so cold that it was ice! It was also really wet behind the Falls, so we didn't spend too much time there and we came back to he gift shop where we found Murray the Moose.  So our moose got to meet a real Canadian moose. And James met a seagull.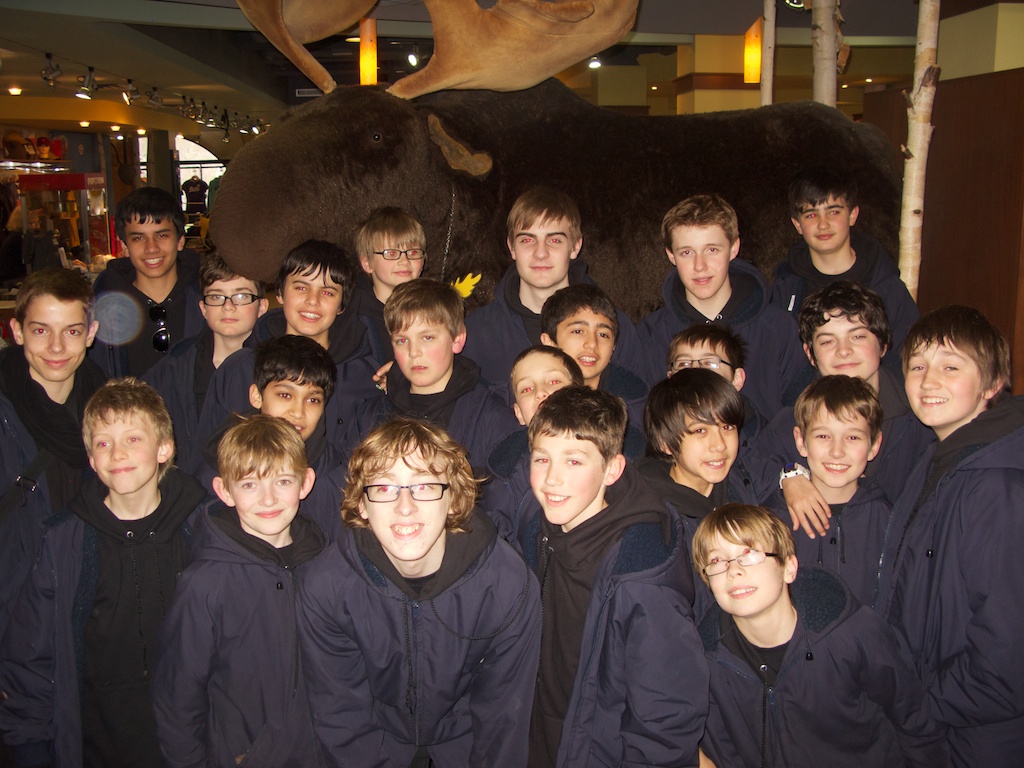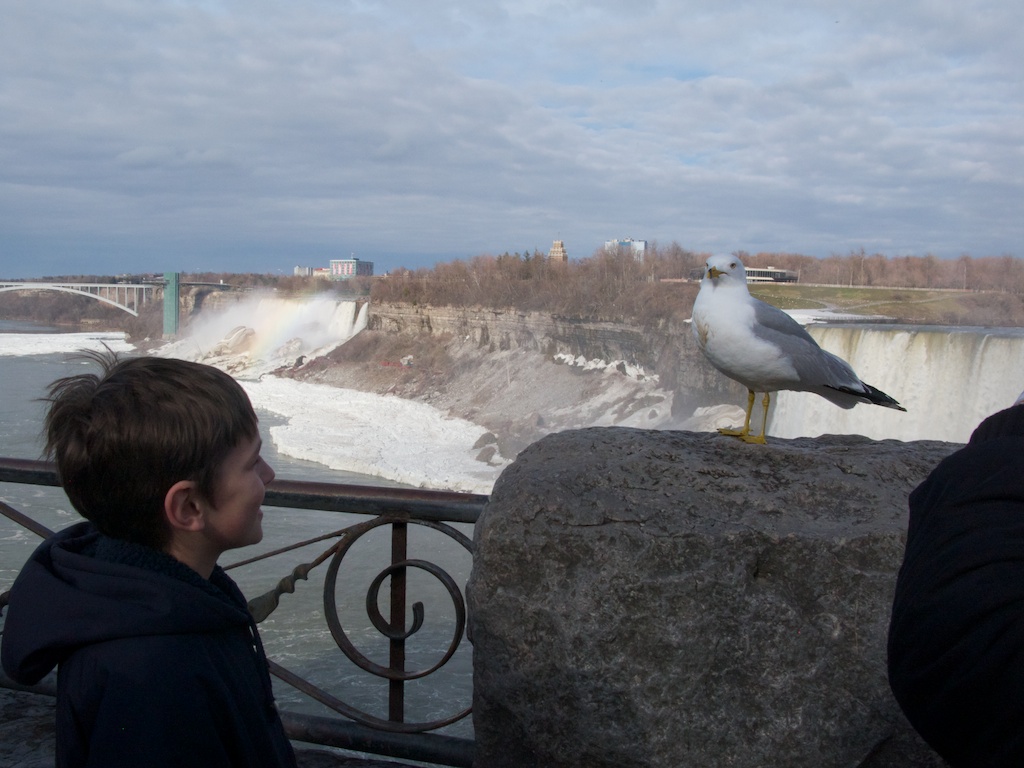 Before we left to get back to Toronto, we went to the IMAX near the Falls and watched a video on all the crazy stunts people have done by the falls, or in the falls. It was really interesting, and the screen was so big! And the sound system was all around, so you really felt like you were there. That was a really pleasant day out.
To be continued…..