24th February 2018
China
PART 1
For most of us it was the half term break and for all of us it was our first trip to China.  We were really excited, so it was a lively group getting off the coach at Heathrow airport. And then, as we were about to check in, we wondered why all the people who'd just gone into the airport started coming out again – hundreds of them. Then about 25 fire engines arrived plus teams of firemen with breathing apparatus, police cars etc. We then realised that someone had set off a fire alarm, and as usual at Heathrow, any alarm brings out the full fire fighting force, even though in this case, there was no fire – probably someone smoking in the toilet.  We had a 'burning' desire to start our tour but it was nothing to do with us! The weather was glorious, almost like a Summer day so we didn't mind.
The flight was really comfortable on our brand-new Dreamliner plane, with a great selection of films and food – we took the opportunity to chat and use our tech for a while.  We then tried to adjust our body clocks to Shanghai time so we snuggled up and tried to sleep, but mostly didn't. Some of us go to great lengths to pass out on flights – lying sideways (small people only), slumped on the food tray, lying in our neighbour's laps, wearing sunglasses, eye covers, pulling our hoods over our heads, counting sheep, doing difficult homework, watching films in Chinese etc etc. Isaac usually faces backwards into the seat and then slides down and ends up in a heap on the floor.
The flight finally arrived early the following morning, the challenge of trying to adjust and stay awake for a full day lay ahead. After claiming all of our luggage and equipment we made our way out to the coach.  Trying to get all the Libera 'stuff' loaded was a little like playing Tetris with our many multi‑coloured Tetromino cases!  Our destination was Wuxi – about two hours outside Shanghai where we were due to start the tour.  We thought the weather in London had been warm but Wuxi weather was positively balmy which was good because many of the boys are barmy – hahaha.
The Shanghai skyline was breath-taking – futuristic and awe inspiring.  The roads outside Shanghai too were a revelation – incredible infrastructure and complicated under and over passes – but not very smooth. The boys at the back were bouncing off their seats whenever we hit a pothole, which was quite often.  Before we knew it, we had arrived at our hotel in Wuxi.
The hotel was great and we made our way to our rooms.  We had worked out who we would be sharing with during the journey – we change around quite a lot. We had great views from the rooms of Wuxi and we couldn't wait to explore.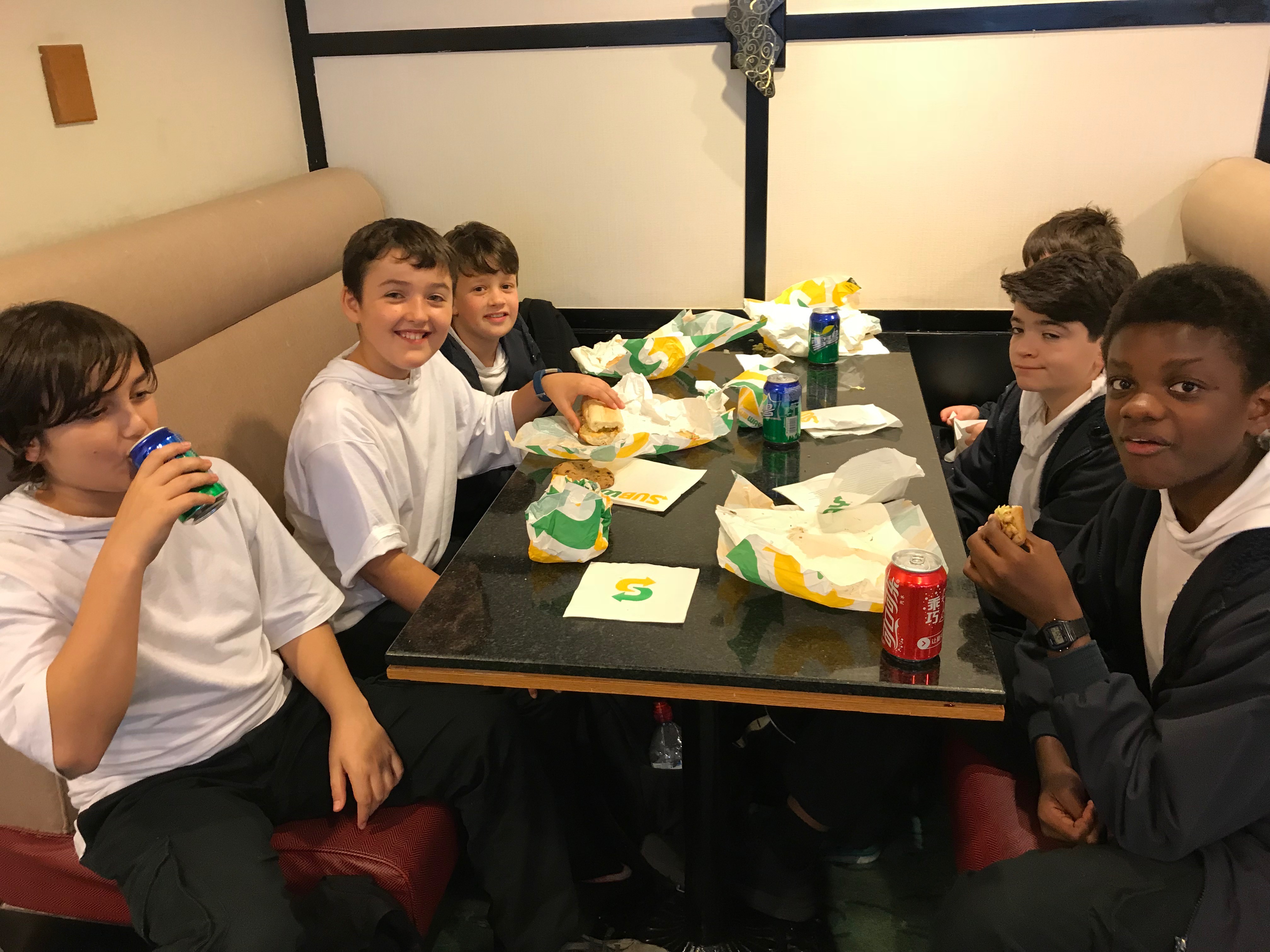 After a quick freshen up and Subway lunch we headed off to a school to make use of their sports facilities.  It was gigantic – complete with football pitch, running track, basketball courts and athletic facilities.  Luckily as it was the weekend we could have full use of the pitch and track. We played our Libera 'silent football', made use of the long jump and track, and generally charged around the field for no apparent reason. Our energy levels were revived by a snack of Orion PIES – chocolate coated marshmallow cake sandwiches.
We had supper at Papa John's – yes they have loads of familiar shops and brands in China. Normally you can't keep us away from pizza but by this stage we were shattered and some of the younger boys were falling asleep at, under, or in some cases, on the table – it was definitely time for bed.  We slept well.
The second day we were up by 8am and had a good breakfast.  We demonstrated our varying skills with chopsticks and some of the skills related to eating food. After quite a number of tours in the Far East some of us are Chopstick Ninjas.  We then used them to eat bacon and egg. A few were more adventurous with the food selection and sampled egg fried rice, chicken in bean curd sauce and noodles – yummy for me.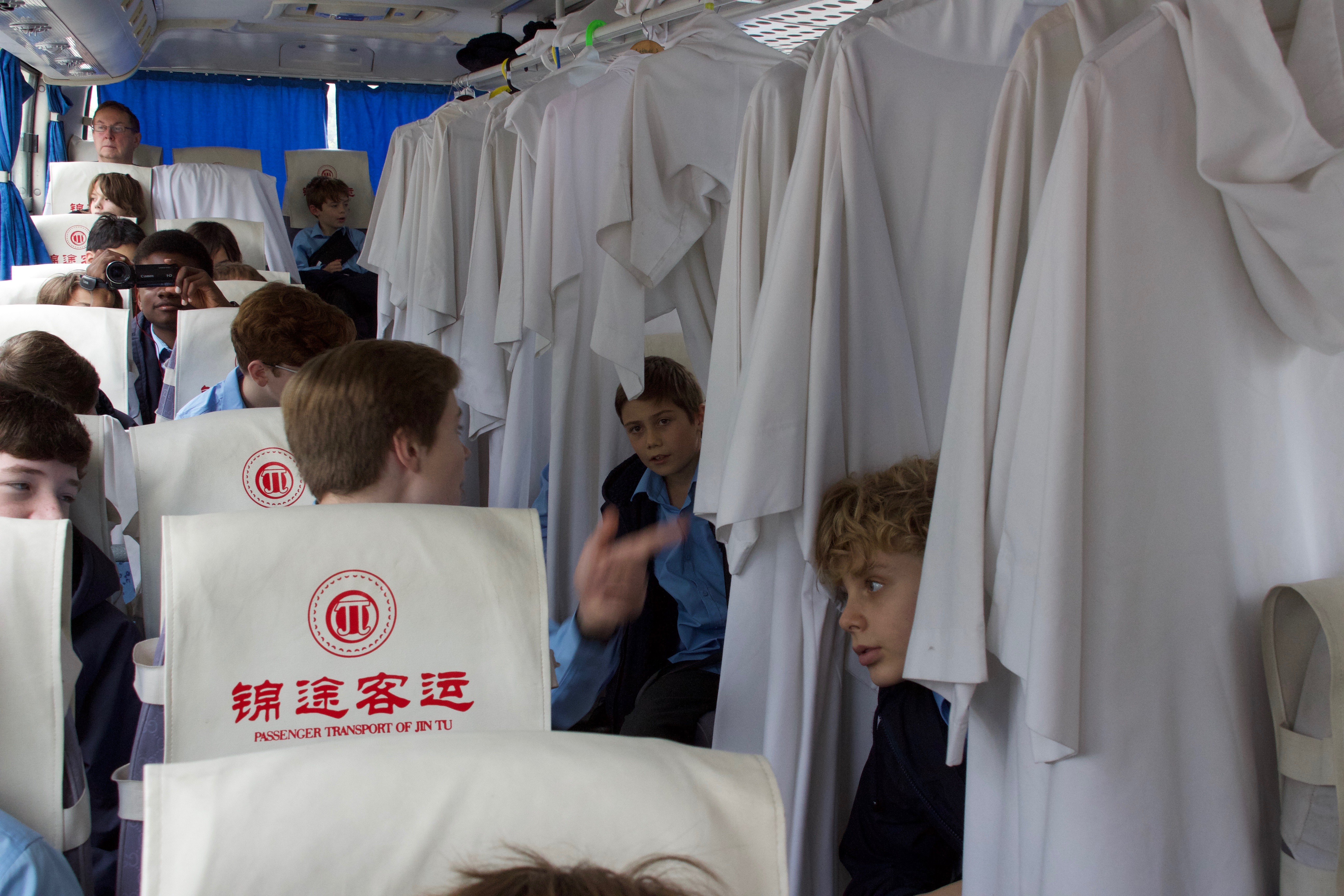 We then went to the concert hall where our first performance was due to take place the day after. As it was a short journey we did our usual system of hanging our white robes full length from the shelves above our own seats on the coach. This creates a forest of mini-tents with boys' heads peeking through the white. At the concert hall, the robes were hung up ready for the performance and we had a run through, sound check and final tweaks in preparation.
After the practice we made our way to the Ehu Rose Park.  The owner took us to a traditional Chinese style building where we met with Chef. Via a translator he taught us how to make traditional Chinese rose cakes.
Rose paste, made from the roses from the gardens, wrapped in a light, pale, sweetened pastry. Whilst they were cooking we had some lunch. We had a selection of food on offer, including rice, sweet and sour chicken, wilted greens and sesame chicken bites.  The most unexpected food item was an enormous whole, unprepared prawn on each plate. You can imagine the suffering the prawns went through before being eaten even though they were dead.
To work off our prawns we had a tour around the Rose Park. Blooms and buildings were admired, but the highlight was …..tandem bikes. They are not so easy to master as they look, and there were a few tumbles. But soon the races began alongside ordinary bikes which, interestingly, were part of a Boris-bike kind of system which operates across the Shanghai area – but more high-tech than Boris. Each bike has a remotely controlled lock which is released by a mobile phone app.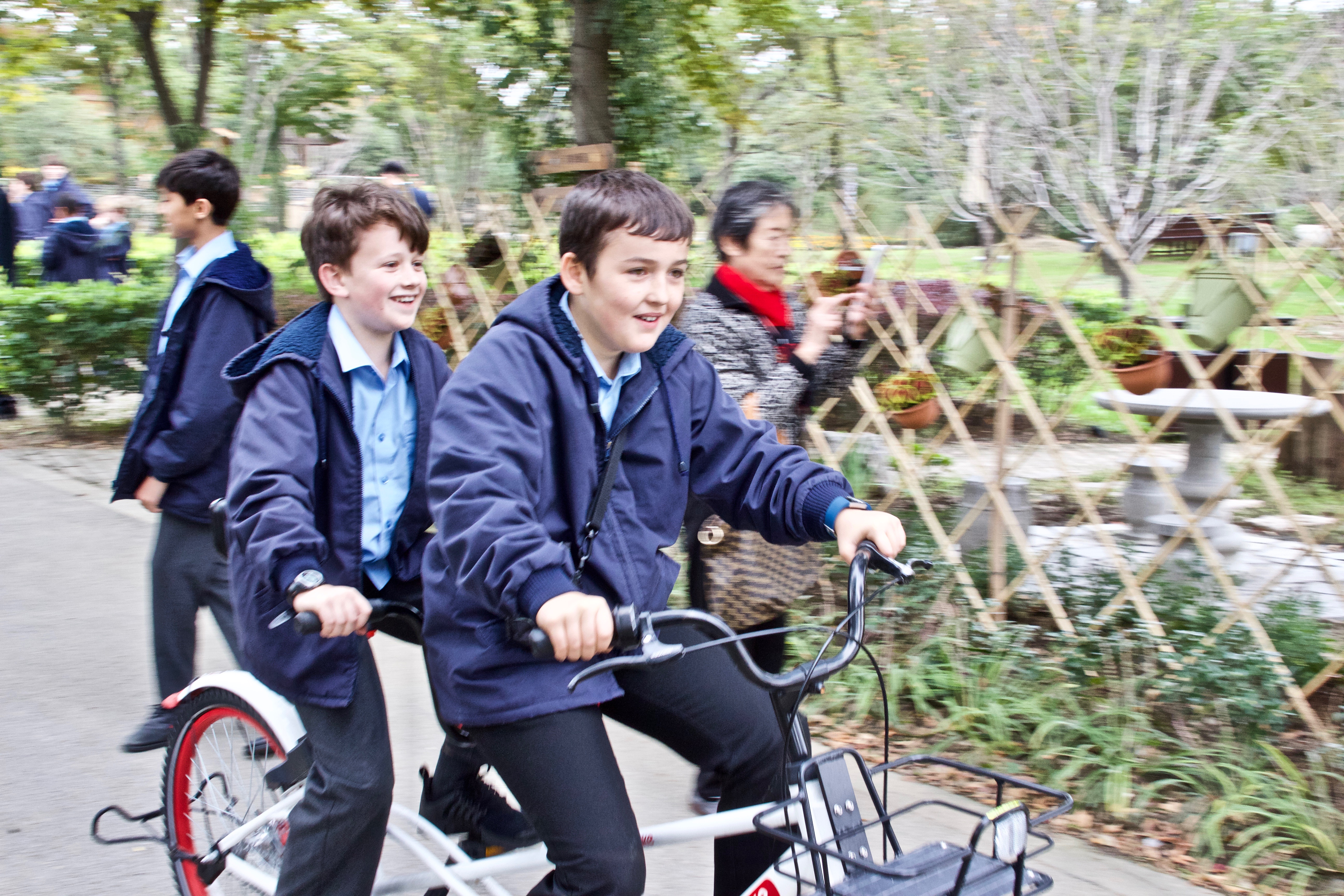 Also, seeing as we are talking about transport, there are electric motor bikes everywhere – I'm talking about all over Shanghai, not in the rose park. Every one of them is electric – no ordinary motor bikes allowed –  and they travel in a special separate lane. It is completely mad to watch – everyone uses them, young and old, poshly dressed business men alongside fruit traders and parents with babies hanging off them and usually on the phone at the same time. Many bikes are modified with special mini-trailers and side-cars for carrying goods and children and pets – it looks like something out of Wacky Races, the old cartoon with Dick Dastardly and Muttley the Dog.
Anyhow, I digress – the wonderful smell of our rose cakes tempted us off our bikes and back to meet with Chef who had kindly cooked them for us to eat immediately. The cakes didn't last very long.  Then, obviously, the best thing after rose cakes was a session on the trampolines.
No time to rest, it was on to the next activity – the Wuxi Children's Palace. We walked in to come face to face with a huge painted, tiled mural of three children celebrating under a very large Chinese flag.  We thought that it was a Government building but it was actually a massive school. We met with some of the children who attended the school and spent some time with them learning how to write our names in Chinese.  Oliver M just wrote his name very large in English – I don't think he quite got the hang of what he was meant to do. The children were so friendly and it was great fun spending time with them.  We were given traditional calligraphy brushes and we, in turn, gave them some Libera pens…… which are pretty cool actually, with a stylus at one end, a mini-torch at the other and also, they write – and a bargain to be found in the Libera Shop at our concerts!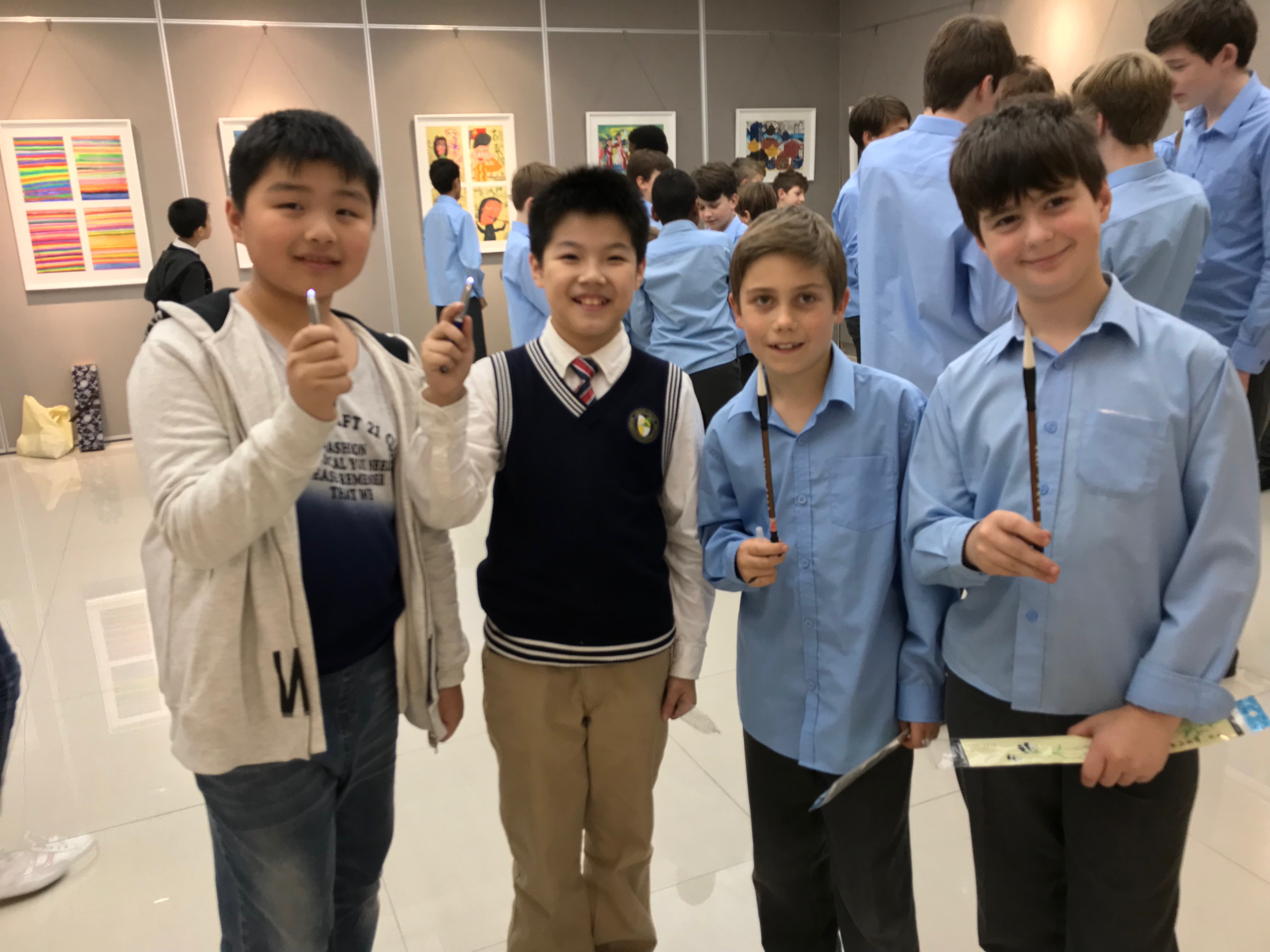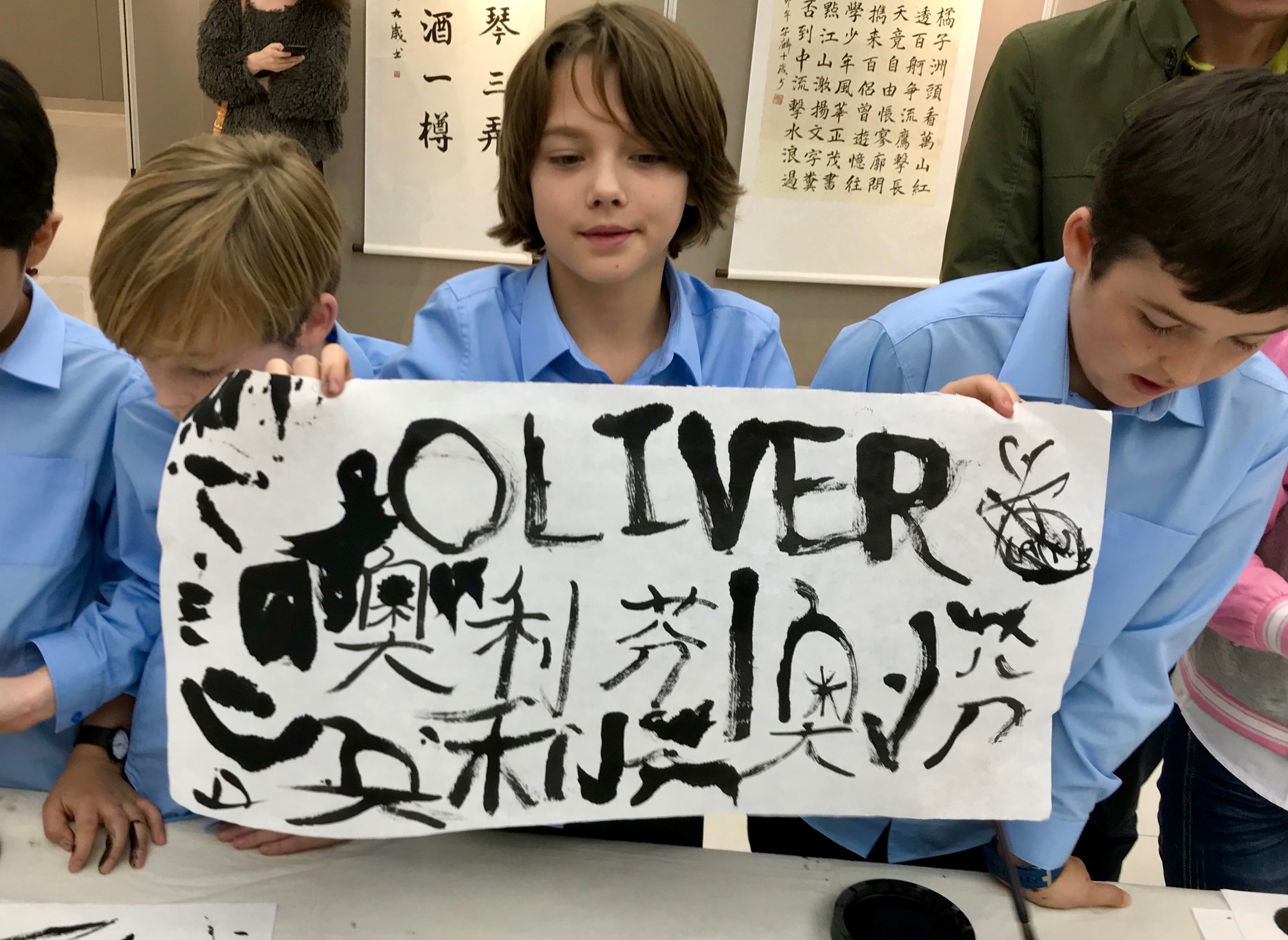 We returned to our hotel, tired but having had a brilliant day.  We had some down time and played games on our Tech before heading off to dinner.  Then…sleeeeeep.