13th April 2012
Touchdown in Japan-11th April
Relief blew through our heads as the plane touched down. The plane journey had not been the most comfortable plane journey and we were all overjoyed about finally reaching our destination. We couldn't wait until we put our feet down in Japan.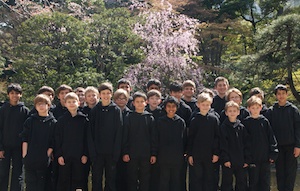 Our minds were buzzing with excitement. We were experiencing quite a change in the weather. We had just spent a week in Singapore where the climate was boiling. Like when the Philippines meets Texas. Only hotter. Then we step outside into Japan where the weather for us is just like the weather back at home. Not too hot and not too cold. We loaded up our bags onto the coach and sped off in the early morning to our destination. Our Hotel.
We reached the rather late breakfast with a variety of foods to choose from, but most chose the same- fried chicken and chips or pasta. There were many other foods to choose from but some avoided the food that seemed to be too extreme. Others took a risk and chose them. For some this was our second breakfast after our rather long flight though some people slept sleep on the aeroplane.
The day passed by with excitement and joy. We had many things to look forward too over the long day ahead. The new Sherlock Holmes was out in Japan, so we thought "why on earth not?" and went to see it.
The next day arrived. Sunshine stung our eyes as we awoke. Nevertheless, we were feeling refreshed and had a nice breakfast to look forward to. I still don't understand why people chose to have fried chicken.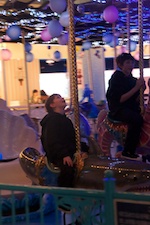 After filling ourselves up with many necessities, we had a short rehearsal. It had been AGES since we last performed on stage so it made sense to have one. It would have been nice if the air conditioning had been switched on, but it it still spring in Japan and the heating is still on.  We were supplied with a nice refreshing drink of water in our lunch break.
We set out into the distance to go on mini rides (based inside an aquarium for some reason.) Here we reencountered the Galaxy Express 999, Pirates Port and the world famous virtual theatre. When I say reencountered, its because we went on them last time we were here.
We left for an open top bus tour in Tokyo. YESSSSSS! We finally could see Japan in all its amazingness. The bus tour familiarised us and all the newcomers to Japan with specific buildings of importance. The emperor's palace, the Tokyo Tower, the largest Apple store in the world. Ah the joys of tech and transport. Unfortunately, only some people are able to speak Japanese so we had Rob as our tour guide.
Finally to end our wonderful day we had a filling dinner, which was absolutely delicious. We now had a nice relaxing sleep. And of course our two concerts. To look forward to
Well this is our order of events in Japan. See you soon at the concert. ☺