14th May 2016
Korea
Yes, the school term was over, and it was time for another Libera adventure.
South Korea was our destination – and on the Sunday that the majority of us had arrived (we were split into two groups for travelling), we went straight to a park and charged about madly to make up for the 14 hour flight. There was an outdoor gym, forest area and football pitch. The rest of the group arrived, and we all went for a lovely first dinner – Italian!
Back to our hotel, and fun in the rooms – they had electric curtains, and video door entrance devices. The toilet seats were plugged into the electricity but we couldn't work out why – they didn't have the usual squirting water thing. As usual, some boys managed to lose their room keys about 5 minutes after we arrived.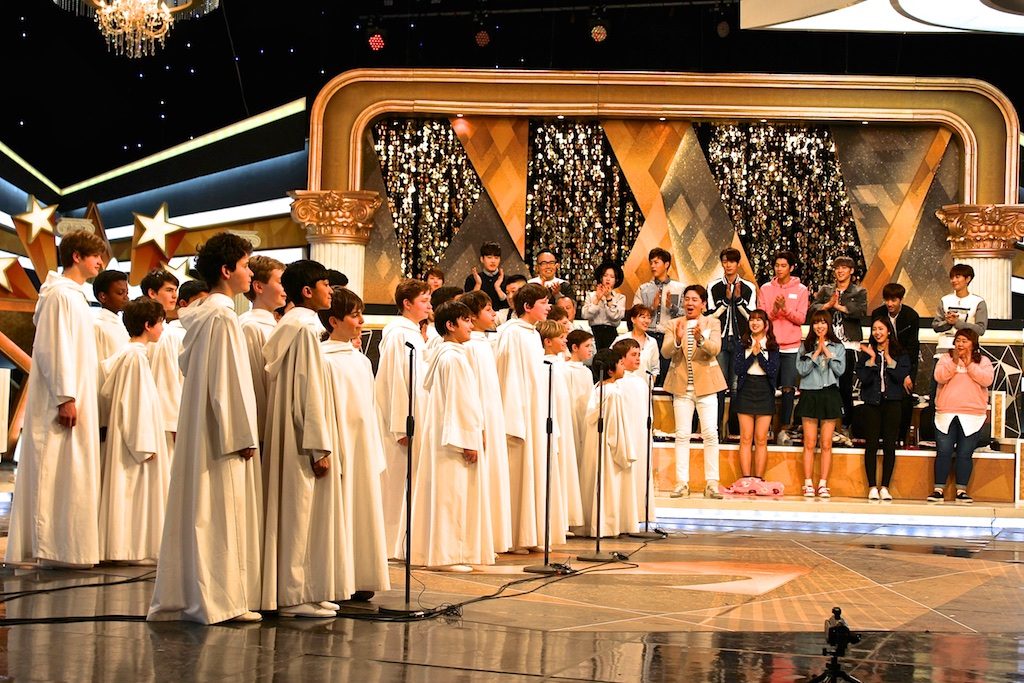 After a good rest, the next day started with a short rehearsal squeezed into a tiny room in the hotel before setting off to film for Korean national television. We performed and talked to some famous K-pop artists and saw what a Korean television studio was like. It's funny being in a busy place like that with dozens of people talking and calling out – and not being able to understand a word they are saying. Maybe it's like being a baby again.
Tuesday was our first concert day, with our last morning of rehearsal before a show in the evening. First rehearsals on tour like that are always a bit hard work because we are still a little affected by the journey, and rather yawney – but it's our main chance to sort out the music, and our layouts before going public. We were all excited to perform in Korea and the audience at the Gyeonggi Arts Centre was as welcoming as ever, and even though the coach journey was fairly lengthy, we managed to sneak some time to go to McDonalds on the way back for milkshakes.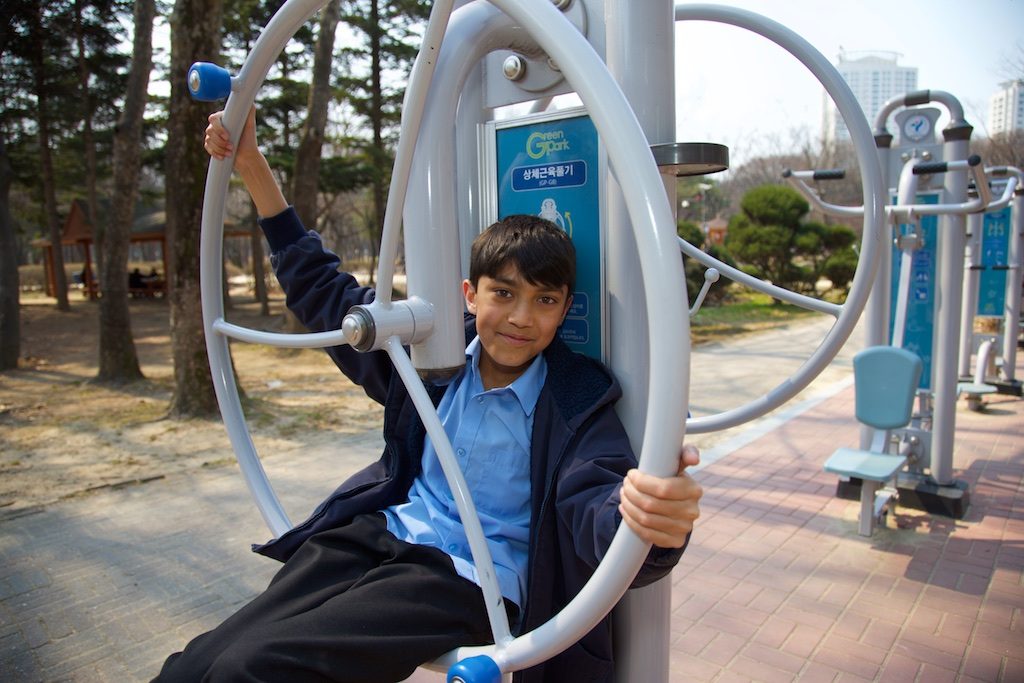 We had a free day planned on Wednesday, with our chance to explore Seoul. We got our daily exercise with a visit to the park, then off to the famous tower via the cable car. Later we went to the K-pop hologram concert, displaying the biggest K-pop artists in holographic form. It was completely mad and very loud and included Gangnam Style – which a lot of us knew because it was also a big hit in UK – and Gangnam was where our hotel was. We ended the day with a fantastic meal at the Sheraton Hotel, overlooking the whole of Seoul.
Our second show was closer to our hotel – Seoul Arts Centre, and we were glad to receive an invitation to perform there. A quick charge around the park and the off to the show. The signing afterwards was a great way to meet some of our fans and thank them for their fantastic support. On the way home, we stopped off for some more ice cream and refreshments at a local cafe. We eat quite a lot.
The show the following day wasn't so close to our hotel, at Icheon. The journey was quite long, but as we were performing with the same group of great Korean musicians, we still had plenty of time to relax before the show because we didn't need so much time to rehearse. This included a pizza buffet – which is a kind of eating place we don't much have in the UK.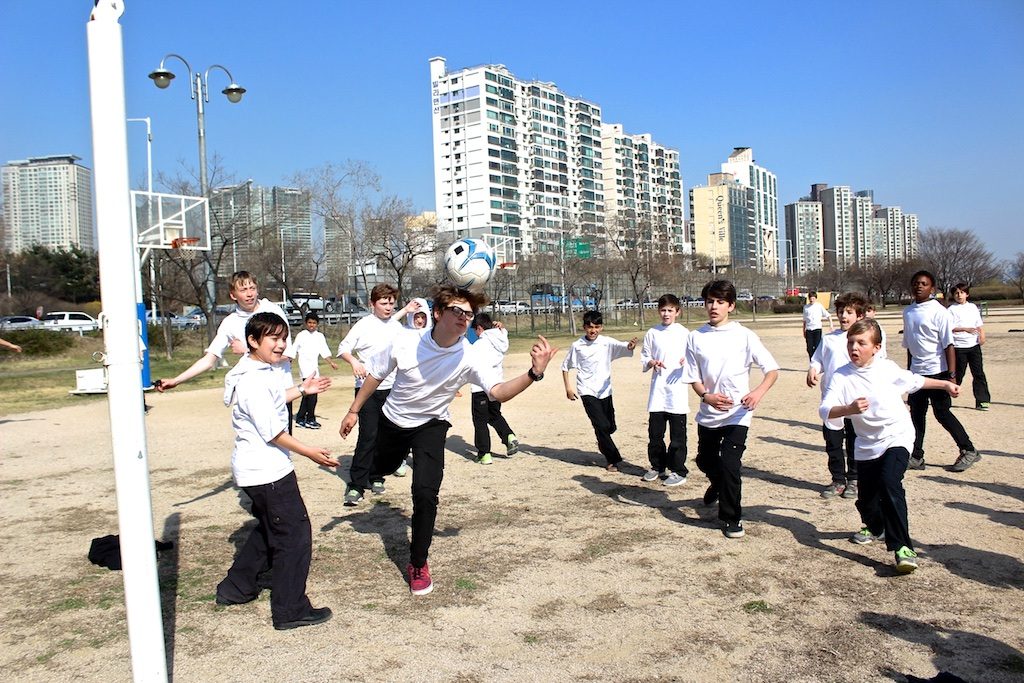 The following day we visited the Children's Park, with a mini-theme park area. We stopped on the way in to pose on the giant Seoul sign at the entrance. It was hot, so we dumped our black hoodies at this luggage store, and in there we saw a place for dogs to be left – in little cages – and there was this little dog looking really unhappy and yapping at us in one of the cages. We felt very sorry for the dog. Along with our usual fun and games, we had a football match against some local talent. It was an intense game, but the Libera XI won 3-1 against the Korean Random Boys in Park FC. Although there are lots of good players in Libera, not all of us are mad keen football types – which is helpful seeing as football teams don't usually have 30 players in them! Sometimes we play in silence – to save our voices – so that can seem a bit creepy for other teams.
A regular issue we have when we travel abroad is the ability to buy Samurai swords and guns at shops – only the toy versions of course – and some majestic fantasy warrior battles took place, sometimes quite close to various innocent members of the public. No-one was hurt. The toy weapons didn't get through the airport security though…..
Sunday came, and it was time for our last show, at Daejeon Culture and Arts Centre. We had to leave quite early in the morning, as it was another lengthy drive away. It was even a longer drive because a car badly parked in the road to the concert hall stopped the coach from getting by. It was then that we discovered the brilliant Korean idea of having drivers leave their telephone numbers in their cars – because after about 10 minutes, the car driver came and moved it. Our final show was a treat, as well as the last signing of the tour afterwards. We had final refreshments about midnight in a 24 hour cafe on the way back, and got back very late. Then some of us had to get up early the next day to catch the plane back – yawn.
We say our goodbyes now to you. See you next time.