8th April 2023
Libera in Korea 2023 – Part 1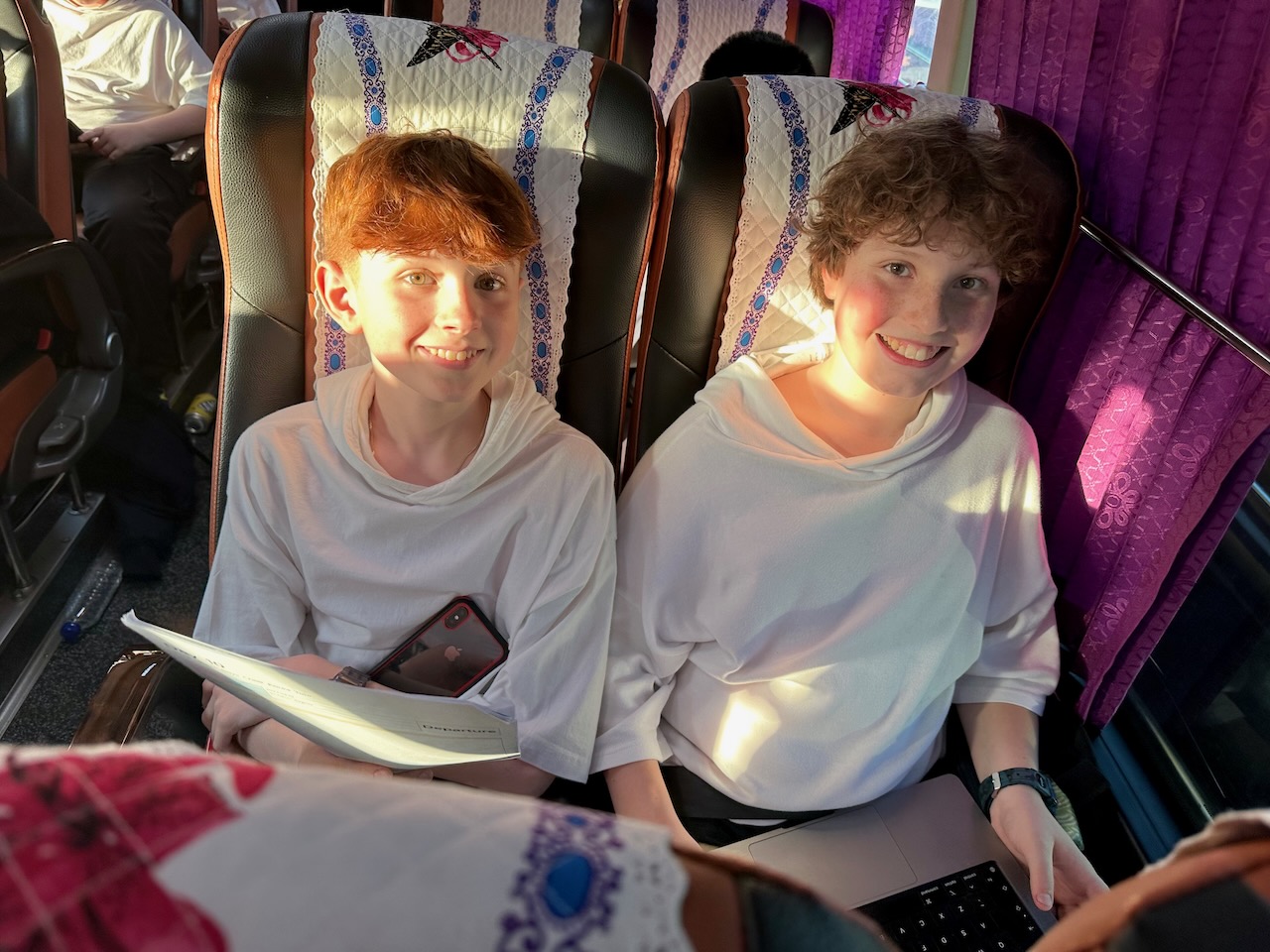 The Korean tour 2023 started, of course, with a day of flying from London to Seoul. We were exhausted when we arrived, however we kept pushing on and, in the end, once we had got into the proper city we met our Korean promoters and shared some delicious pizza. We then explored around Seoul and went to the President's old house, which was incredible, with chandeliers worth thousands and stunning views of mountains behind the building. A quick kickaround in the park worked up our appetites for dinner, after which we were all very tired, so we went back to the hotel for a good first sleep.
The slightly cramped, oddly-scented rehearsal room of the next morning was a far cry from the previous luxury of the presidents house, but we made sure we knew what we were doing for our concerts and moose watched carefully on. After going up the Seoul Tower, because Libera boys love going up towers, we went to a delicious Korean barbecue restaurant where they were cooking pork on the table right in front of our eyes. Everyone loved the restaurant, and many claimed that it was the best food that we had so far.
The next day we had a relaxing morning and then went to a board game café, where were many choices of games from battleships to chess. Our group, including Daniel, Luca, Freddie H and Mitchel played a game of poker with actual chips. However, we were not betting any money. The winner was Mitchel as he bet a lot of his chips but his confidence paid off! After that we went back to the hotel to have a spot of lunch. Then it was time for the concert.
The nerves were high as the first and most important concert was coming up. Waiting in the sides everyone was motivating each other. Once we got on stage the Korean fans loved us they were all very happy and always joyful. During the first chat, after a great performance of Vespera and Sanctus, Pietro shocked and pleased the fans with his amazing Korean language skills. Overall, the concert was amazing and went very smoothly despite some small mistakes. After the concert we went to do signings and it was a great and new experience for many of us.
On a cloudy day we went to the Yeouido Han River Park to do some biking which was very fun as some people were very good, we even did some races for fun. Then that night we had a concert in the world's largest underground church. We were all miked up and ready to go and the crowd of about 5000 people seemed to like us. We finished with our special encore of Arirang which the crowd loved! After the concert we had pictures taken with some children from the church and it felt like we were superstars.
Before leaving Seoul, we got in a quick sight-seeing opportunity at a local palace where there was lots of cherry blossom and there was even a couple doing their wedding photos. On the way to our next hotel, we had an amazing stop at Lotte world, which was a Korean theme park. This was so cool, there were so many rides, and we had a great time. Some of the rides were extremely cool and one was 70m in the air. Personally, we think the best roller-coaster was the Pharaoh's Fury, mainly because it was translated as Pharoh's Furry on many of the signs! We stopped at a pasta place for dinner and all were full and tired after another exciting day on tour.