5th November 2013
Phancy Philippines Part 2
Welcome back, dearest person who wishes to enlighten upon the topic of Libera.
Before our show in Manila, we were lucky to enjoy some swim time and relaxation. Of course on tour we're not singing 24/7, and enjoying the weather of the Philippines is only one of the many benefits of coming over. There's always rewards for our work, those aside from the joy of performing.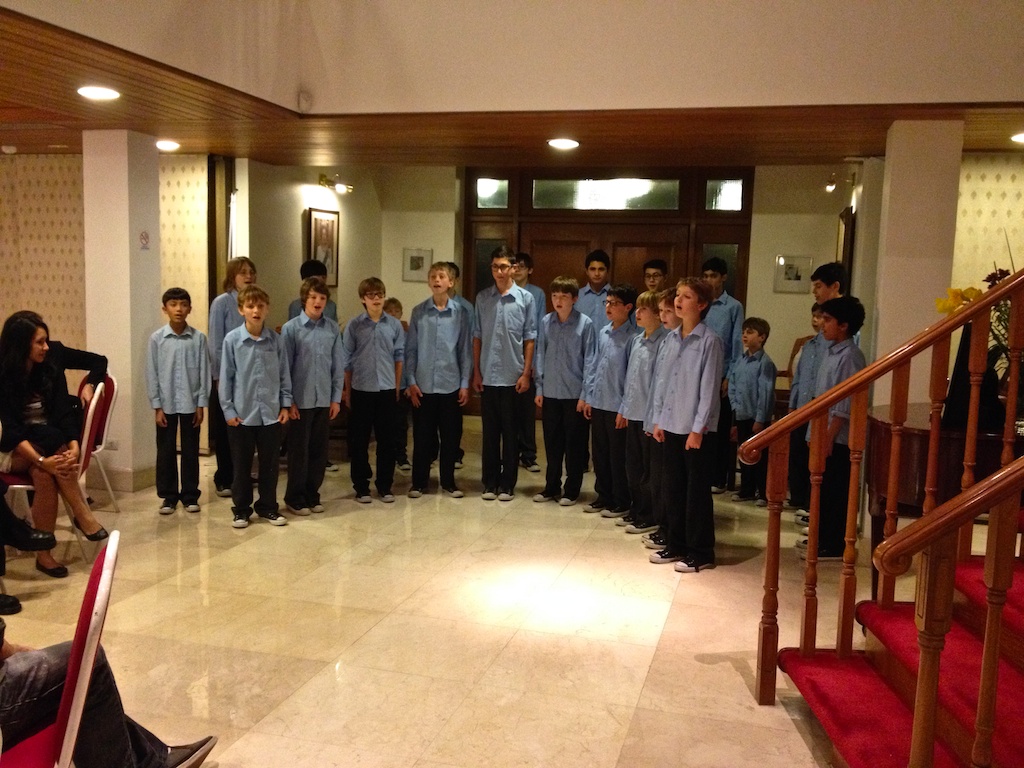 One example is that we were invited to the Ambassador's house for another lovely dinner. Us, being the lovely children that we are, made sure to small talk with guests like we were twice our age. Then we decided to hunt for frogs in the massive jungle of a garden and chase them around; always the best of both worlds with us. We gave a few performance songs for the ambassador, in turn to earn our dinner.
Time flew so fast that before we knew it, performance day had arrived. Those who had been here before, in the Philippines knew about the wonderful reception we receive when performing. From a boys point of view, it's always better when the crowd tell you they enjoy it; it makes you feel great knowing they've been entertained. It's when we start singing in Tagalog that makes us feel the best. When we sing that song, it's not only that we're reminded that we've conquered another language; but that we know we've made a real connection with our audience. That moment is probably the most magical of all.
After we come off stage, we are full of hyper-ness etc. Most of us are thirsty, and go to our chaperones. You might be wondering how we are looked after away from our parents at home, and the answer is our chaperones. They are the unsung heroes, our second parents, who ensure the comfort and safety of our trip. They may feed us, ensure our voice works, be a helping hand and someone to talk to. That's an information about Libera you probably didn't know.
Tired and hungry, we returned to our hotel for a feast and rest.
The next day, we began preparing for our trip to Cebu. We were told by our host, Mr Roberto De Ocampo OBE, that it was an island next to where we were in Manila and that it was the first discovered island of the Philippines. Unfortunately we weren't sailing there on a pirate ship, but flying. We had landed in Cebu.
Without wasting any time, we got on the coach. Because our flight was slightly delayed, it meant we might have been late for another signing. We don't like to keep you waiting. Again, the signing was great and we were once again reminded of the great reception we receive. We do, after all, sing a song mentioning Cebu. See if you can guess which one, your clue is that it begins with O. Thoughts should be flowing through your mind. Sailing, maybe.
After the signing, it was on our way to yet again, another fancy dinner. Hosted by the Cebu arts council, we sat and ate with an impeccable view of Cebu, extraordinary view of the talented dancers and at arms length from a fantastic singer. The food was great too. Sometimes, we are just surprised with events like this. We don't expect to be treated as welcoming as 3 fancy dinners, but we are always grateful for everything. Our fans, presents, gifts, dinners, evenings. Definitely wouldn't feel the same without them.
Stay tuned for some more information.