23rd January 2019
Japan Journey continued…….
DAY FIVE
We awoke from our new beds on floor 23 and took the lift down to Nagoya breakfast where there was another delish buffet, with hash browns, miso soup, eggs and various not-waffle stuff including a long queue for the omelettes. We went to a park for another silent soccer/footie match which was on a sandy kind of pitch and in the sand and around it were fly things which liked to FEAST on some boys legs and arms so a couple of us looked like we had some disease by the end of the match. And these creatures must move fast because we are charging around the sand soooo fast. Our kind chaperones dished out some cream stuff and nice soothing words about it not being smallpox or the black death.
We then visited a local shopping centre where many of us bought gifts and souvenirs for that time when we would arrive back home. We discovered that in Japan shopping centres people behave very well and sit on seats properly. One of us stuck his feet under him when he sat down and got a serious telling off.
After this we proceeded to our venue, Zepp Nagoya which was a tad smaller than the previous one and had a sort of standing area, though there were seats in it. The hotel was right next door to the hall so we changed into our robes before we went. We did our sound check, which was even shorter than the last one and sat back down into quiet time. We ate our sandwiches and we went on for the first half. With confidence anew we delivered a vivacious 1st half thanks to a great audience and after some much needed drink in the interval we went on to deliver an altogether successful concert we thought. And after the signing we had some delicious refreshment from Starbucks delivered to the lounge on the 21st floor which had a view of the lights of the city. Because we still had our robes on, and we were drinking hot chocolate and creamy milk shakes and scoffing muffins, we had to be specially careful not to spill stuff on our nice white robes. Our coats on backwards with the hood bibs at the front catch most things, but someone who shall not be said got liquid upon their lower uncoat covered robe part, which was not a good thing. They had to sit at a table and not on the nice massive sofas that more careful people were allowed onto.
As usual, one feature of all the hotels that excited many of us were the electric toilets which are nowhere else in the world that we go to. Nagoya ones were even more interesting, and some played music or birds singing or even the noise of toilets. In the UK toilets have to make their own noises.
DAY SIX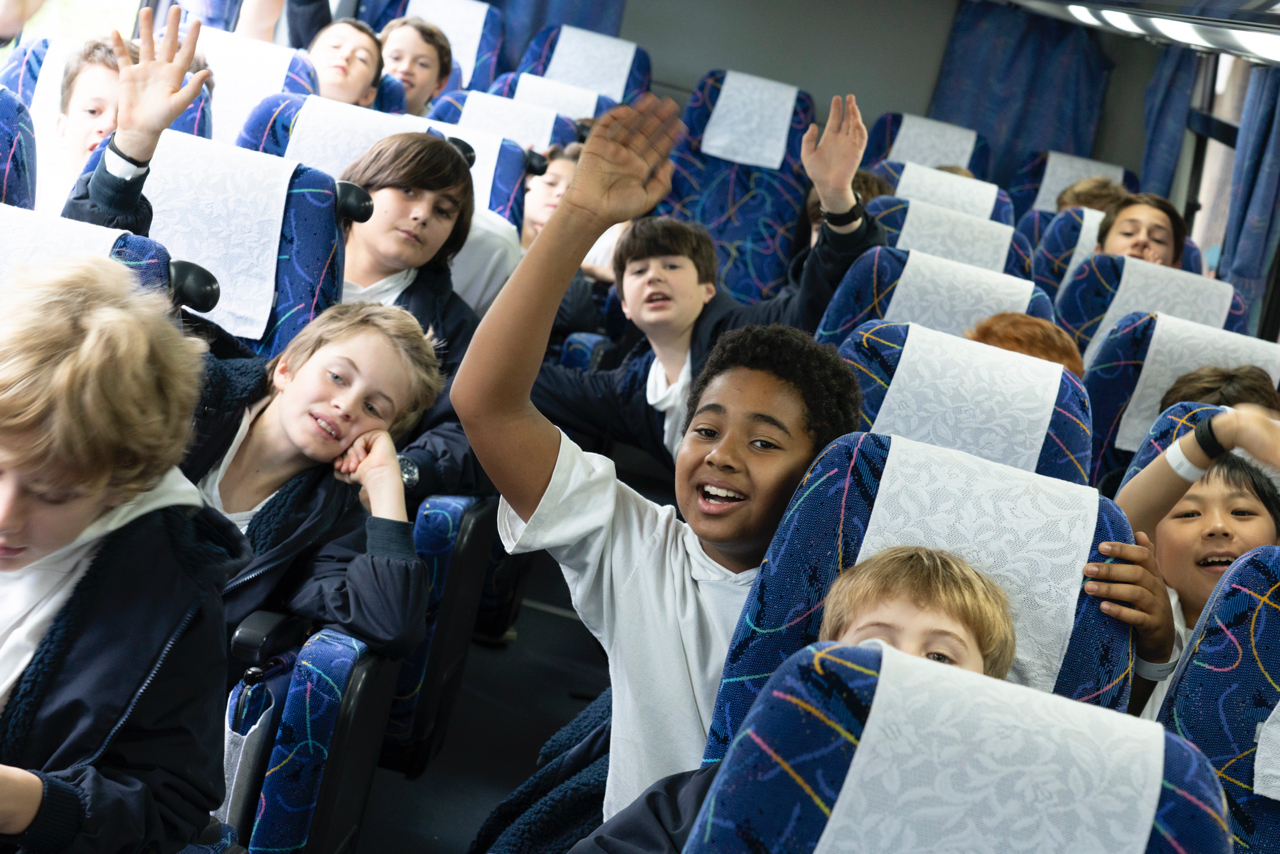 So anyway back to the blog, not the bog – that is really funny because in UK people say 'bog' to mean toilet sometimes – anyhow, we woke up and had our usual breakfast and descended into our seats on our chariot which is also interesting in Japan because the coach seats un-flap to give an extra seat in the middle but then you can't get out. Anyhow, after a short coach journey we boarded a second bullet train and set off for Osaka. We are like Japanese work people now – walking round the station and train like we know where we are going. When we arrived we had lunch and then went to the 19th tallest building in Osaka, the Umeda Sky Building. It was an interesting building with one of the best views of the city and a mad escalator joining the two towers. The Osaka hotel was quite nice so we chose our rooms and used our finger treadmill games for an hour before playing silent footie in a nearby park as darkness fell upon Osaka.
Many amazing goals were scored though not actually by me and we then proceeded to a Q&A at a local hall sponsored by LIBERA chocolate (no connection just a coincidence). We appeared mysteriously with our hoods over our heads and lights out, though I guess the people there probably knew it was us and not a load of ghosts. It was a fun evening with many interesting questions asked of us – some of those being about our Halloween traditions back home in London town. I don't think we got to ask much about Japanese Halloween. Maybe it does not mean children dressing up in sheets or masks with a pretend bolt through the neck and your mum's make up all over your face and going to houses and making people give you sweets.
DAY SEVEN
We ate our penultimate breakfast anticipating the final concert with a mixture of excitement and nerves. We had our last game of silent football with spirits running high and amazing goals being scored and saved (my special shout out goes to Johnny for saving almost every goal that came his way). Next time I do a Blog I will find out what the not-football people do and report back. They were climbing on things in Osaka. Anyhow, we then had a delicious lunch at a nearby Hilton before an hour to ourselves and our games in our rooms so we weren't standing up. After this we took our coach to the gigantic venue (the Osaka international convention centre), did our sound check and then read our works of literature to calm our nerves before the big event. The concert went very well – the audience gave us a standing ovation. We then had our last Starbucks and went to sleep dreaming of tomorrow……tomorrow…….
DAY EIGHT
The next morning we awoke from our beds looking forward to Universal Studios Japan. We were mad for this. We are totally lucky about going to USJ because our music is played there and for the adverts. The USJ people are so nice and take us round to get lots of rides in even though we cannot stay all day due to going to the airport. The park's entrance made me queasy, seeing a massive sideways section of a ride at the front. I was initially extremely scared and my legs were like jelly but once I was on the Forbidden Journey and Flight of the Hippogriff I was having the time of my life and wanted MORE ACTION. And it came, in the form of Hollywood Dream with a near vertical drop and triple-sideways loop de loop. I was nervous to say the least but with Michael Jackson pumping from the speakers in my headrest I took the drops and loops with a smile on my bottom. With a Halloween parade and the sun in the sky it was beautiful and, in the wise words of my predecessor, it was 'totes amaze'.
Sadly all too soon we had to leave to go to Osaka airport and our long flight home.
Sayonara Japan!