5th December 2018
Japan Journey
DAY ONE
Like often happens for our tours at Half-Term (Half-Term = a short school holiday lasting a week) many of us rushed straight from school to Heathrow Airport – some via a coach from South London, some direct. So we had all been working hard all day before we set off on our big
JAPAN JOURNEY
There was the usual mega-queue at the airport waiting to drop off our bags. We notice that other people are always very glad when they see us happy boys in the line ahead of them – we were 40 people with our staff and musicians, including a few trolleys with large percussion objects on. Then off to security and boys get told off for things like water bottles they had forgotten they left in their Libera day bag three tours ago. Then we had our packed teas – food we bring with us to eat as plane food is not liked by all of us – plus a few visits to Café Nero for some shakes to prepare us for the long journey and also there was stuff to buy. So if you add the toilet, and the long queue and security, and someone losing their boarding card again, we had to run to the gate, but then, when we get on the plane, it's a total long time before it starts moving. Which was not a good thing because after 12 hours of the first flight to Hong Kong arriving late, we then had to run again to catch the next flight to Tokyo, and then sit in the plane not moving again. But we had many video games and films to absorb us. Sometimes we watch a film and play on a DS, or something like that, at the same time, as there are usually boring parts of films even when they are quite action‑packed while people talk about having the next action. Plus of course we do our homework.
We were told it would be a good idea to sleep as this would help us adjust to the time zone although not all of us were able to as we were too absorbed by the in-flight entertainment. But we do have like a 'no-games' time, when we are not meant to use our thumbs – only watch a film or listen to music so we might possibly sleep. Actually, some boys slept for a whole proper night time. But then at last our final destination – ironically, we arrived in the land of the rising sun in the dark, and after landing in Tokyo we then made our way to the hotel where we finally collapsed into a soft bed at the end of the long day….. wondering what tomorrow would bring ……dreamy music.
DAY TWO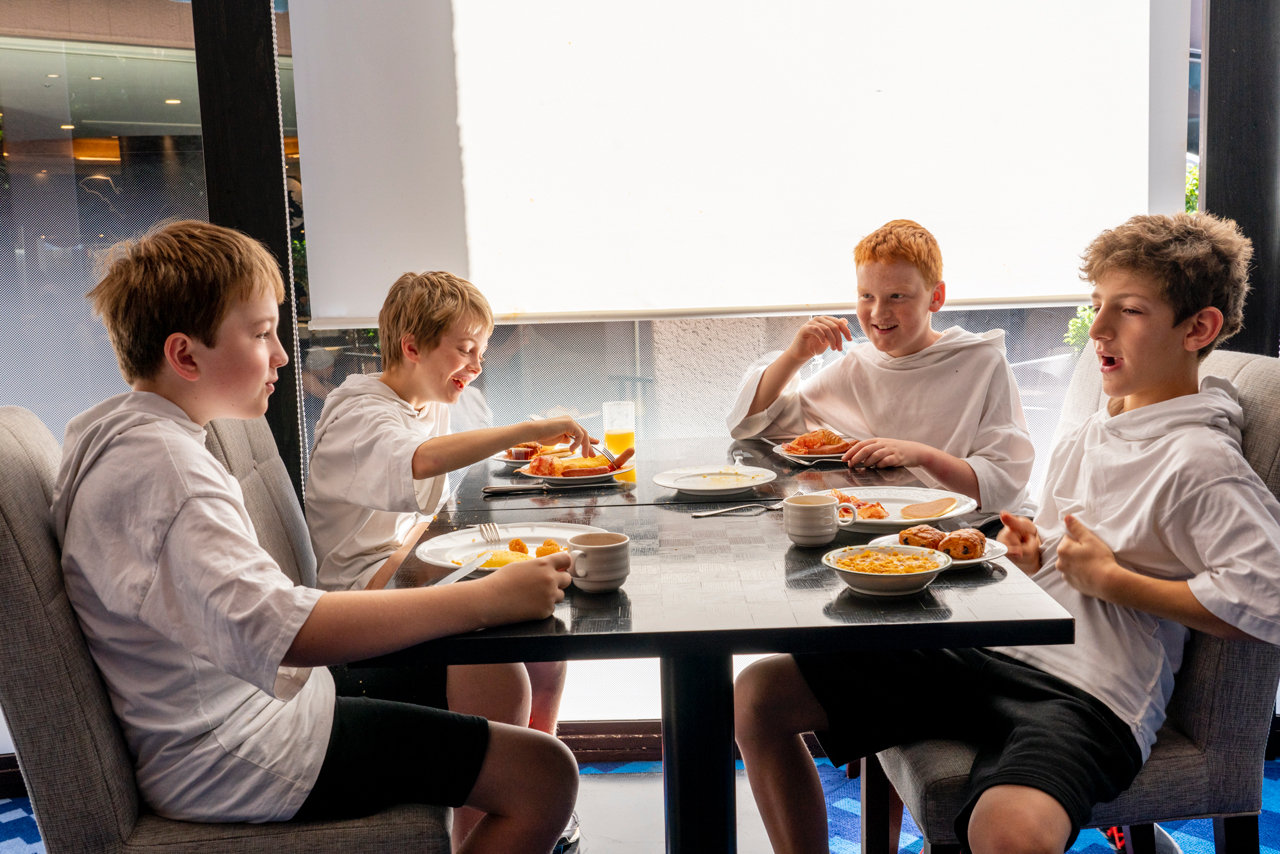 What it would bring was a hearty buffet breakfast, then a rehearsal in the breakfast area to make sure that everything and everyone was in condition for the big event. We then made our way to the venue, the Shinjuku culture centre, and sat down in the changing room awaiting lunch. It was Subway, which is everywhere in the world, and we all tucked into our sandwiches and chips and then changed into our white robes.
We had a successful first sound-check, although a long one because it was the first time we met the Japanese orchestra, who were amazing and could play everything sight reading. Then we collapsed back into our chairs and moved on to quiet time, slightly feeling the effects of being on a plane for 15 hours. The concert was nice and early, 5pm, it was on Sunday, and was pretty good we thought and the audience was really friendly – and it was packed out – and many of the people queued to meet us at the signing afterwards. Then we had a delicious dinner at an American buffet looking out over the amazing river with bridges, flyovers, railway and monorail.
DAY THREE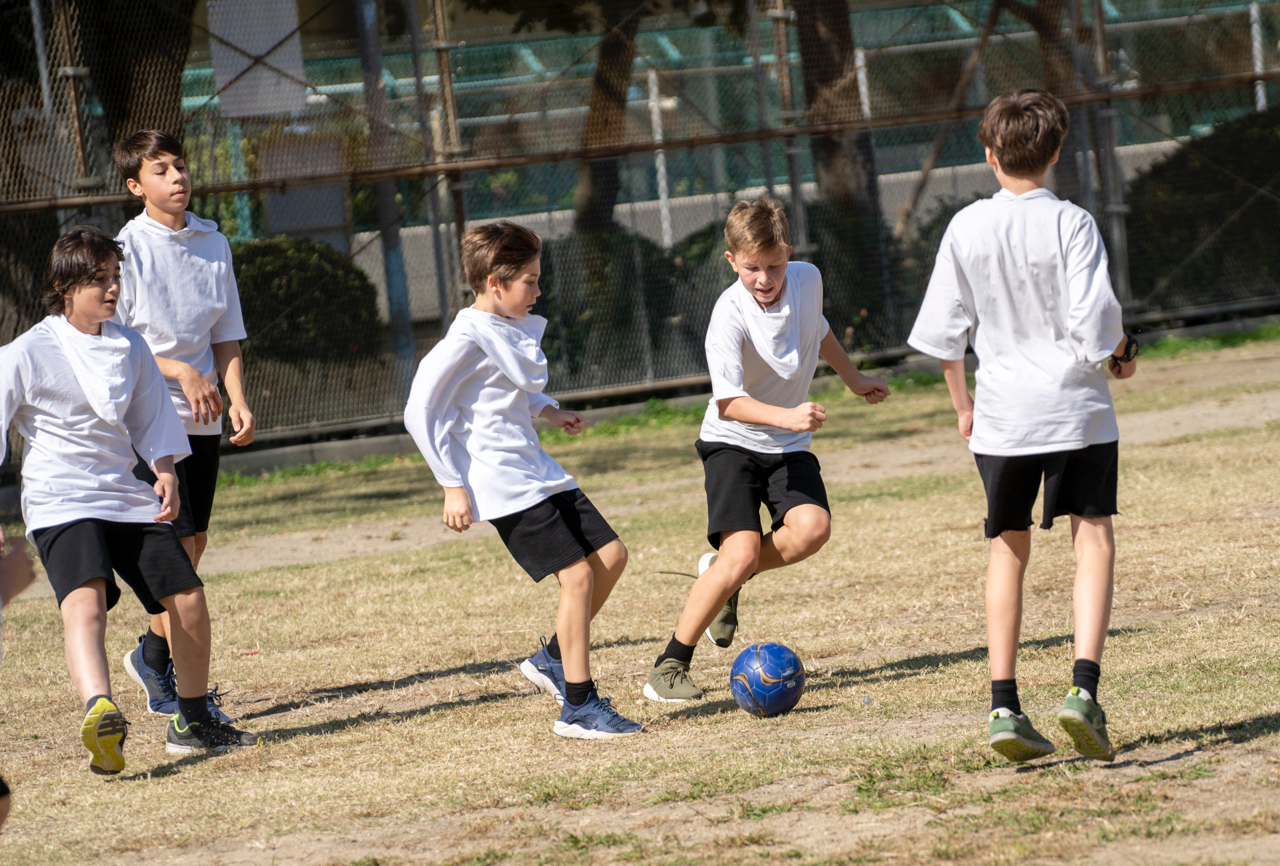 We once again awakened to a delicious breakfast less jetlagged than yesterday and feeling much more energetic and vivacious than the day before. (Notice the good words I am using). Sometimes in hotels, because there are so many of us arriving for breakfast at the same time, we are put in a separate room. Sometimes – sad face – we only get some of the food that the other people get. But at the Grand Nikko Hotel we got loads of choice, thank you. Then we walked to a local park and played our usual silent football and running around. The boys who want to play football get split up into the two teams by two team captains who are always very good players, or at least quite big. One team turns their T‑shirts round so we can see who is in which team, which is useful for me so then I know which way to kick. As usual I got chosen for a team nearly last, even though I am amazing and only some of the time stand around looking at insects etc doing nothing. Actually there were a load of insects flying around, and the heat was like a hot summer in England. So the water fountain was nice, and not like the one in the park near where we meet in South London because it was not broken and vandalised with graffiti all over it.
Then we ate a delicious lunch at a Japanese restaurant in the hotel. We then went to the venue which was the same as yesterday and had a shorter sound-check and we waited for the big moment. Just before the concert we ate peanut-butter and/or jam sandwiches which gave us a small burst of energy to carry us through the first half. We had a good first half and after a drink and words of encouragement we went back out there with new found confidence and went on to have an extremely successful concert. We then had a drink at Starbucks after the signing and returned to the hotel. The Starbucks was in an all-night shop which had also a million books and CDs and vinyl. Amazingly on the wall was a big display and a photo about one of the old Libera soloists who is now a pop-singer, and who had been in Tokyo the week before us.
DAY FOUR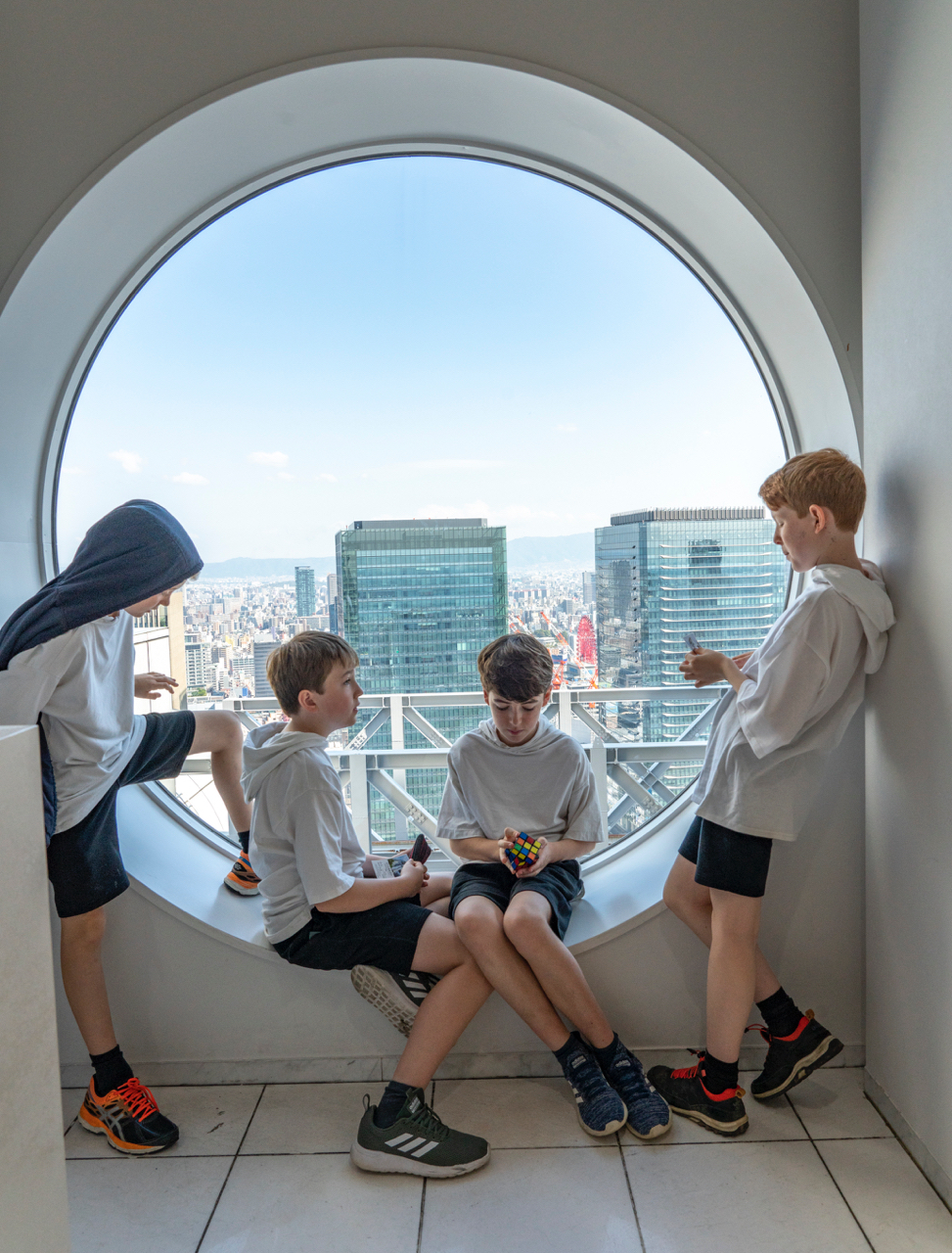 Our last day in Tokyo started well with another big choice breakfast, after this we travelled up to our rooms and packed our bags ready to travel to our next destination, Nagoya. It is quite mad when we all pack and clear the rooms – most bad and sad for our nice white pristine robes. We don't have any posh bags to keep them nice and clean and flat, so they get chucked in our cases – though we have to try to keep them at the top, not down the bottom with the smelly stuff.
We then took the lift back downstairs and left our bags in the drop-off area where they are all lined up tidily with labels on, ready to go on the coach which would take us to the Bullet Train station. But on the way we went to a cool recording studio to record some music for a famous Japanese TV programme called 'Shitamachi Rocket'. Then we went on to the station where it was like the rush-hour. For most of us it was our first experience of a bullet train. Also it was our first experience of a train being on time to the second. Many of us have to travel every day on trains in London to school. Mostly we are lucky if they come at all, or whether there is room to get on them, not whether they are on time.
We speeded smoothly to Nagoya and arrived at our hotel which was on top of a big office tower – so we had to go to the 23rdfloor to find our luggage, and then the hotel rooms were all above that. We saw amazing views from our rooms which had massive windows.
But now, what would tomorrow bring? What will breakfast be like? Will there be waffles?
The story will continue soon…….