23rd September 2019
USA 2019 – Part 1
Because some of us only finished school the day before, we were awoken in the middle of the night – 2 30am! – to catch our plane at 7 30am in order to get to the USA in time for our first performance. So we were lagged before we'd even jetted. But did we care ?…..oh no…… we were so glad once again to be on our way to visit our friends across the big Atlantic pond; (drumroll) the good ol' US of A.
There was the usual hold up to check in, even at 5am, and this time the added feature was that all 40 of us were told to go to these separate machines and put our passports in – which we did. But the machines did not like us, and told us to go away, because most of us were children. So then a person came to this one screen and entered all of us individually. This took about 2 hours. We wondered why we couldn't do the usual thing and go to the normal counters. The person said that nowadays passengers were not meant to speak to a real person to check in, but obviously something went wrong, because he did seem to be real and very nice actually as he patiently printed out all the labels and stuck them on our cases by himself.
Our first flight took us to Chicago where we waited inside a tent to be taken across the airport to the local plane that would deliver us to St Paul in Minnesota. We arrived at our home for the next 4 days, a retreat centre which instead of the usual hotel rooms with 2 or 3 of us in each room, we slept in dormitories like in Harry Potter. As the sun sank we went to play a game of rounders in a nearby field. Now I have written before about flying creatures in Japan, but these ones in Minnesota were something else, and were more menacing and even crept up people's socks in order to feast upon our blood. So we decided to move to another field next time. Afterwards we ate and then travelled into the realm of dreams on what is my 3rd America tour.
The next day we had a lovely breakfast with an assortment of cereals and proper real hot food but no waffles in a homely dining hall, outside of which were humming birds. Well, we couldn't hear them humming through the window, but they really were hovering humming birds which we had never seen before. We did some humming for them. Then we did some humming to start our rehearsal for the first concert in which many constructive criticisms were taken on board and many improvements made. We had a drink and a break. There was lots of stuff to do with a swimming pool including hot-tub, pool table, table tennis and volley ball. We then had a very exciting game of football (British) with many close moments and great shots and saves but no noise of course as we had to save our voices, not just the goals. Then later we watched 'The Kid who would be King' which we did not think was based on a true story. Then we would go to sleep.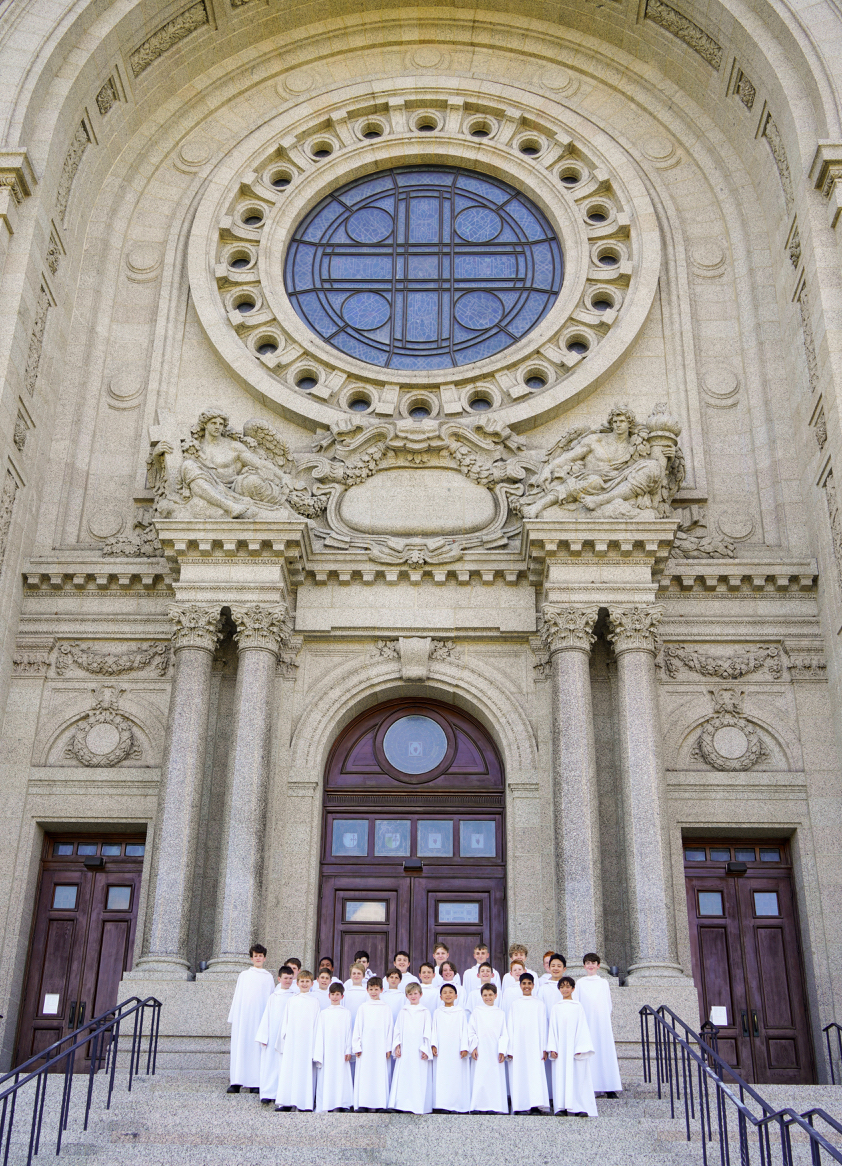 The second day; the scrumptiousness of breakfast was again followed by much essential rehearsal which itself was followed by another fun break of swimming in the pool, waving noodles, chucking squidgy balls, lounging in the tub etc. This was then followed by lunch giving us the energy for the concert we had ahead of us. We took our coach to the nearby cathedral of St Paul where, to fill some time, we had a game of family 'it' hiding in the reeds of a park next to the Mississippi river where there were old style steam boats with chimneys that look like they had exploded at the top – and big paddle wheels on the side. 'It' is one of the names for this ancient chasing game in which people get gradually infected. Usually at home we put our hoods up to show that we have been caught and that we are therefore trying to catch others, but in the heat with our blue shirts we just turned our collars up, so looked a bit mad. Then it was back to the Cathedral for a photo outside and a rehearsal with the orchestra. We munched upon some lovely sandwiches and crisps dished out by Barbara and Angelika before reading our books in quiet time ahead of the concert which went brilliantly with a lovely audience in the enormous cathedral who gave us a standing ovation.

On day three we played more rounders – without creeping creatures but with many balls going into the nearby forest and providing lots of fun searching before giving up and using another ball. After the game we drank some water, played some good old football and then had free time in the break room. Following lunch was a demonstration from our amazing flautist Eimear where she also showed us her many whistles, pipes and other instruments. When she plays some music on the flute it is so fast that it sounds like more than one person playing – like she is making her own backing. She also really loves elephants.
After luncheon we boarded the coach to go to a shopping mall with a theme park actually INSIDE it – a real theme park! This was great because it was incredibly hot outside, and an outside park would not have been fun. We tried the different rides and many, many, maaany sweets were bought at the nearby sweet shop. On the log flume we piled on in our white shirts and the person in charge of it had been at our concert the night before and recognised us – so she gave us a couple of free rides! We came back to some very funny episodes of a historical sitcom before resting our heads so we could 'head' to St Louis the next day.  And I hope, for our teeth's sake, that everyone brushed their teeth before they slept. I, as you know from my previous blogs, am always most careful about this matter.
Click here to see all the pictures from our tour.