10th November 2019
USA 2019 – Part 3
Los Angeles
The journey from Oklahoma to Los Angeles was shorter than the long-haul flights across the Atlantic which was good because it was a small plane and we were spread out all over the place – but we had a lovely stopover in Phoenix AZ where the temperature was 45 or 113 degrees depending where you live. Back home in the UK people were complaining that it was hot when it was 35 or 95 that week. Feeble. After arriving at our quite nice hotel we had a buffet dinner and a good night's snoozey sleep.
Westlake is a favourite location of ours – you can tell because we keep coming back! We always get a fantastic welcome at Calvary Community Church. But first we had a great time at an arcade with a small football (or soccer) pitch which had pretend grass which I think had grown since last year, and some serious arcade machines for when our team weren't on the pitch.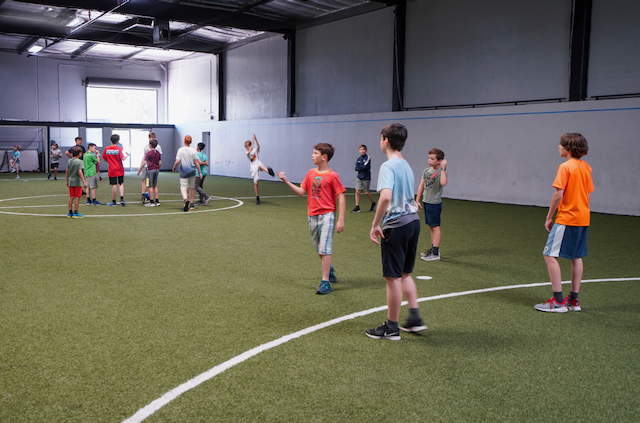 We are all divided into 4 teams which is useful for games and also for checking we are all there. As we walk around as a group, some people just keep walking. What I mean is, if there is a small gap between any of us, they sometimes don't notice that everyone else has turned left, or gone up some stairs, or got in a lift, and they keep going. So we have to check no-one has gone wandering off. This process of 'Number Check' can be interesting to observe – the team leaders become like totem poles, and spread out calling their people unto themselves. Then all their team members gather closely around them in a huddle. They and the chaperones can very speedily check that every one is there. But usually everyone isn't there on account of how Leo and Taichi keep going back to sleep after their wake-up calls, not that I would mention any names. Anyhow back at the Westlake footie emporium, the only problem with the football pitch being indoors was that many of my spectacular goal-kicks simply bounced off the ceiling, so once again my true genius was not seen.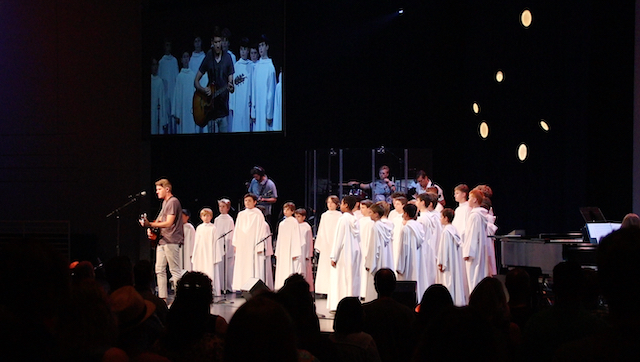 After this we headed to the church and re-familiarised ourselves with the layout of the enormous church and stage. We rehearsed with the excellent musicians of the worship band, for the Masses we were due to perform in today and tomorrow. Apart from our own Libera music, we sing songs with them that we don't normally do which are led by the amazing singer Scott. They have drums and a drummer who plays inside a clear plastic box – maybe this is to stop the drummer escaping – and then there are guitars and keyboards. We sing a special backing harmony part over the top of the exciting stuff the band do. It makes a good combo-nation. We then revisited our lovely finger treadmills to unwind after the long rehearsal before singing the actual mass.
Bright and early the next morning after consuming many lovely yoghurt smoothies we emerged from the dining room (which had been labelled for 'Liberia Boys Choir) and headed back to Westlake. People do sometimes get our name wrong. 'Liberia' of course is a country not a choir. Then other times we get called 'Libra', which is a star sign. And once we were 'Ribera' and another time 'Rivera' and I don't know what they are.
Having done a brief rehearsal we then performed two masses (there are so many people at the church), both of which went swimmingly – much like the pool we dived into later that day.  The pool had one small diving board and one larger board which many of the braver boys in the group (including myself) flung themselves from in an array of contortions – only a few of which would be classified as an acceptable dive. Actually, we weren't allowed to dive from the high board anyhow. However, the ground on the outside of the pool was incredulously hot and having lived in Britain we were not used to this, so there was much hopping about because the floor was superheated.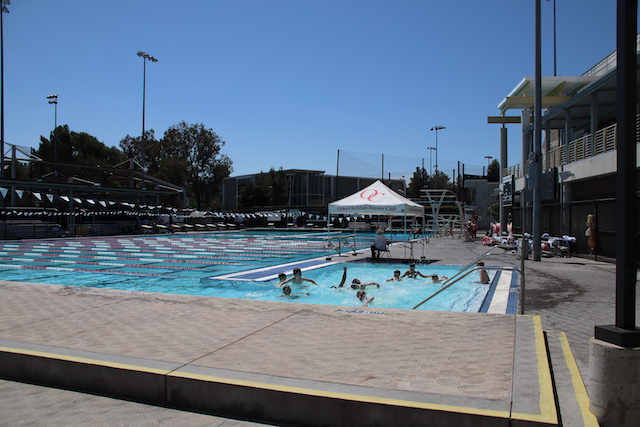 After a lengthy sound check and rehearsal we then prepared for the evening concert which went brilliantly with a lovely crowd many of whom had attended the earlier services.  A lengthy signing followed and, after many of us developed writer's cramp, we headed back to the hotel for sleeeeep.
After a breakfast of copious waffles and an interesting coach trip, where we saw the systems that Los Angeles has put in place to transfer water from the mountains to the largely dry biome (notice my use of this science word I learnt recently) that the city inhabits, we arrived at a favourite accommodation of ours – UCLA.  Thereafter a restful day followed with the choosing of rooms, rounded off with a dip in the pool and a game of rounders (or should I say baseball in the Land of Babe Ruth).  Kavana is our referee for games like this. He is an official referee for Oxford University teams, so we must not mess with him.
A breakfast in the substantial dining hall of UCLA with about a million other people who were staying there, energised us for the day.  We started with an enjoyable trip to the cinema to see the 'live action' version of 'The Lion King' – the animals were very good at acting and singing I must say. The cinema had some quotes from classic movies such as Star Wars, Harry Potter, The Terminator and many others around the lobby.  We then headed to the Crystal Cathedral – although now it is called Christ Cathedral. When some of our predecessors in Libera sang there a few years ago, they appeared on a famous TV programme that came from the cathedral called 'The Hour of Power'. Now the cathedral has been massively rebuilt but it still has lots of crystal in it. A few of us had an interview for the radio programme 'Music from the Tower' with John Romeri – and 'Power' rhymes with 'Tower', so that is very interesting.
We had our usual soundcheck, and then we discovered the air conditioning fans. Oh yes, these were great fun and were very unusually in the ground blowing upwards, so when we knelt over them in our robes, they blew us up like we were enormous sumo wrestlers.  Actually, if one of our small miniboys had been there, they might actually have taken off and floated away.
After the rehearsal we made our way up the Tower to have some yum food provided by the cathedral people being careful not to spill anything down our lovely white robes, and particularly not the BBQ sauce. As previously mentioned by myself, certain people still manage to get stuff on their robes even with most of us covered up with our backwards coats and built in hood nose-bags.
Then, remembering not to walk on stage with our coats still on, we performed our final concert this tour to a wonderful audience who gave us an enormous standing ovation.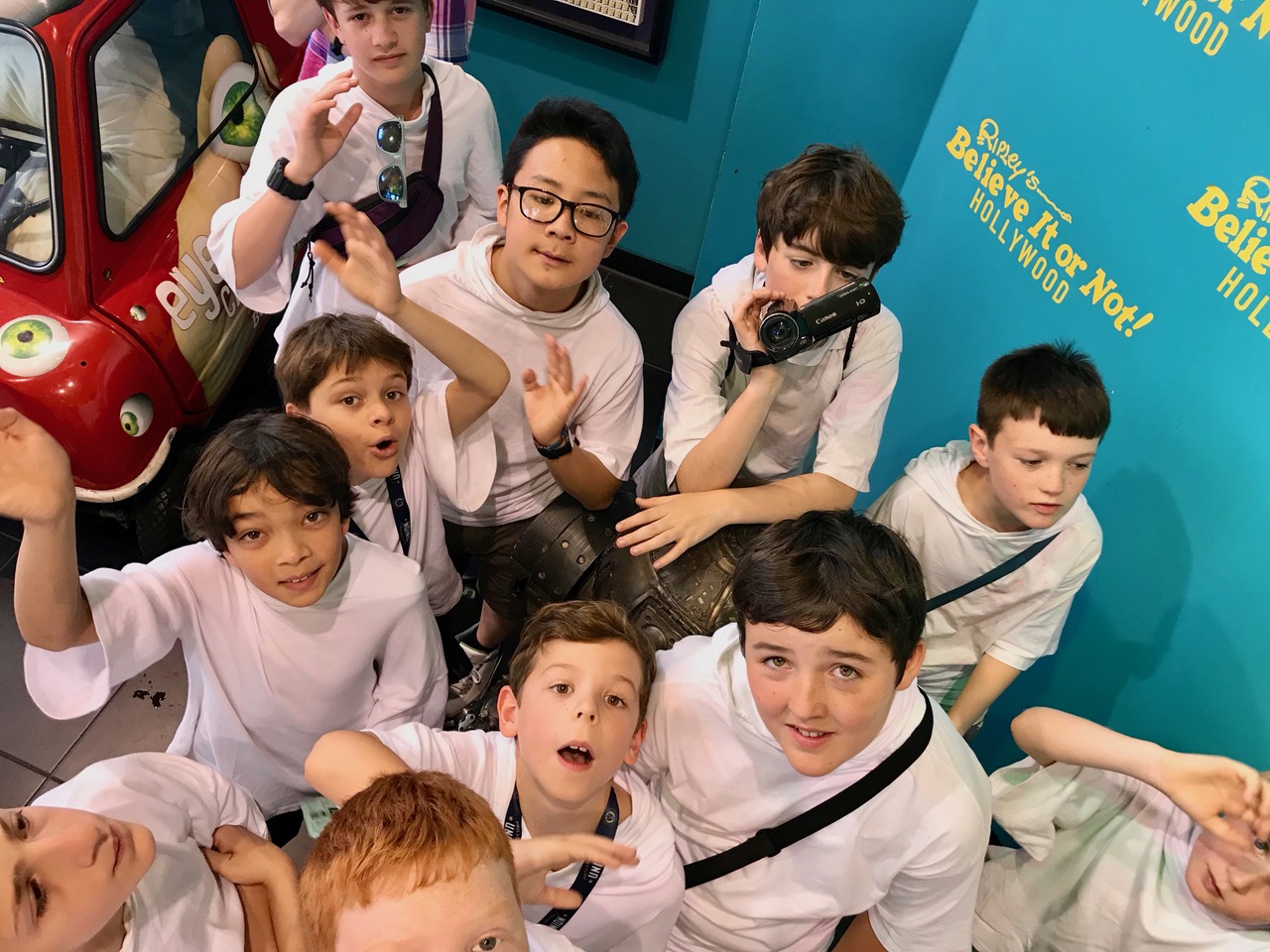 And so we came sadly to our final few hours of the tour.  We breakfasted and then proceeded to the home of movie-making (and secret location of Dr Evil's lair) – Hollywood.  At the Chinese Theatre we matched our hands and feet with those of the silver screen; much shopping followed along with a visit to Ripley's Believe It Or Not where an array of strange facts and creatures awaited us, including a two-headed calf, a replica of the world's tallest ever man Robert Wadlow and the world's shortest ever man and Dom played Chopin on a concrete piano.  We then ventured to Santa Monica beach where we frolicked in the sea and buried Johnny alive in the sand – only up to his neck though, so he was still alive.  Then, with mouths tasting of salt and limbs caked in sand, we went to perhaps one of the greatest places on Earth – Chez Jeff.  This is the home of our wonderful host where we have a pool party and do something no-one ever does in the UK, namely, roasting s'mores.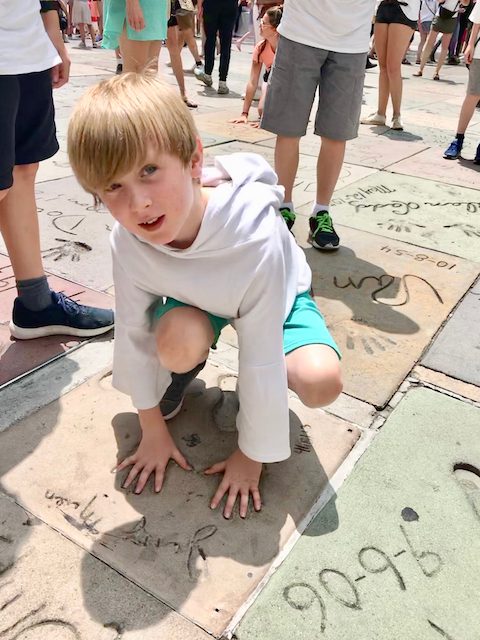 We all hope we shall have s'more USA very soon!