8th April 2012
SHINY SINGAPORE! – 7th April
We are buzzing with excitement. Yesterday's concert was a great show, and the signing after just put the cherry on the cake. We were all tired of course, but a good night's rest lay ahead of us.
We wake up, sunlight pouring through our curtains. Down the elevator. Through the lobby. Inside the lounge, you get the idea. Awaiting us, a buffet laid with breakfast-ness (if that even is a word) for everyone. Sausages, eggs, bacon, we all knew the drill. But bhatura, steamed dim sum and spicy bean masala we weren't quite sure of.  We avoided the extremities.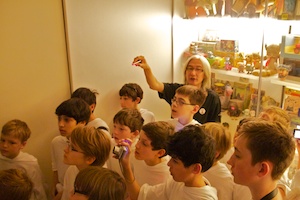 After our delightful meal, we had a surprise ahead of us. We didn't know (well, it was a surprise), that we were in fact going to a TOY FACTORY. Wait, no.
A TOY MUSEUM.
Toys in their Billions. Ok Millions. Well, thousands. Not even thousands, I guess. But hundreds of toys, from over 50 different countries. 50! All different shapes, sizes, weirdness. Ok not weirdness. All right. Some toys were downright weird. A devil version of our beloved Felix the cat. A carousel version of our also-beloved mickey the mouse. Oh, and also a huge full-size statue of darth maul from star wars.
There was also some really cool stuff. A wooden statue of tin-tin (popular among Libera members). A full collection of matchbox cars. Even the first toy from 1840! It was spectacular, and we even got free posters, which will ensure a spot on our bedroom walls.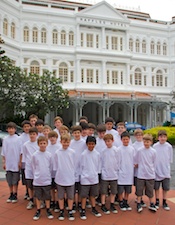 After, we paid a visit to the famous raffles hotel. We walked through the shopping area, and even had a couple of picture moments by the fountain and front entrance. It was really cool, the design of the building and things. There were loads of special designer shops too, but of course, very expensive.
After lunch, we returned to our hotel. We watched a film to pass the time, and then we had to prepare for our second concert!
We were really excited after our first performance, and were all geared-up and ready to go give another good performance. We really like the Esplanade theatre, and the architecture is REALLY cool. All the buildings in Singapore are really cool though. Oh well.
Unfortunately, this is the end. But of course, we are never far away. See you soon!